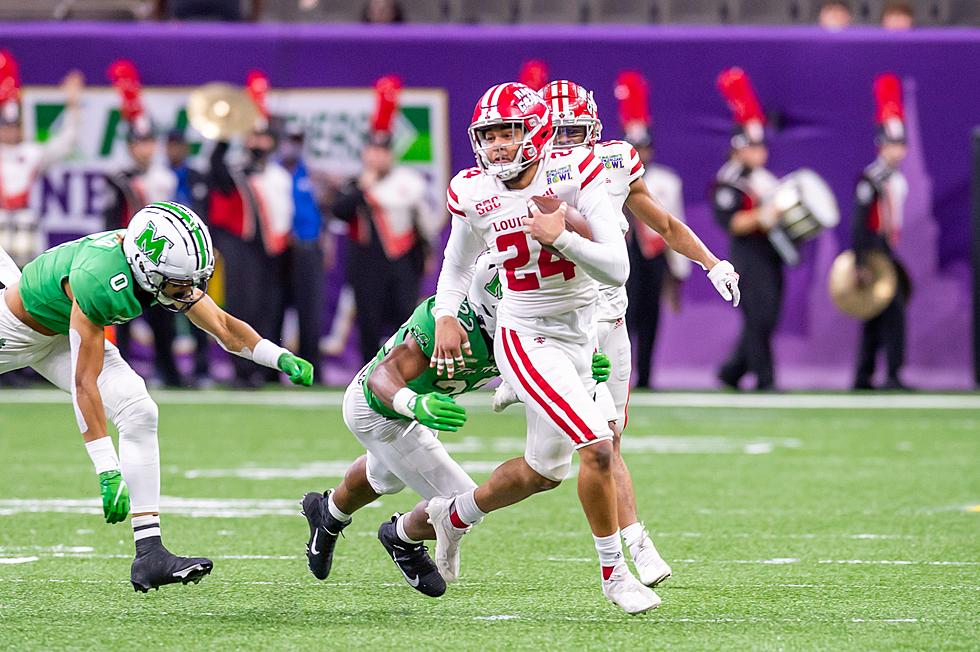 Former Louisiana Ragin' Cajuns Shine in NFL Preseason
SCOTT CLAUSE/USA TODAY Network / USA TODAY NETWORK
It was a tremendous NFL Preseason weekend for former Louisiana Ragin' Cajuns alum. We already highlighted Washington Commanders Percy Butler's interception against the Cleveland Browns, but he certainly wasn't the only one. 
https://1033thegoat.com/former-louisiana-ragin-cajuns-percy-butler-with-int-in-pre-season-game/
Lafayette native and Acadiana High graduate Bralen Trahan had an interception for the Chicago Bears, picking off fellow rookie Will Levis to seal the game Chicago.
In the same game, Trahan's former teammate Eric Garror, signed by the Tennessee Titans as a non-drafted free agent, showed off his open-field tackling ability.
Garror was interviewed following Monday's practice.
For the Dallas Cowboys former John Stephens, Jr has impressed in camp.
From SI.com
A collegiate receiver turned professional tight end, the 6-5, 221-pound Stephens Jr. finished his senior season with 14 receptions for 284 yards and a score, averaging over 20 yards per grab; he wasn't a centerpiece of the Ragin' Cajuns' offense but developed into an explosive, big-play threat.
Against the Jaguars, Stephens led the Cowboys with 5 catches for 56 yards and a score.
As for New England Patriots TE Johnny Lumpkin, he dressed and played nine snaps against the Houston Texans.  He had been wearing a red jersey for most of camp.
Things Lafayette Adults Get Excited For That Kids Find Ridiculous
Buckle up, because we're about to explore 8 things that make Lafayette grown-ups jump for joy while leaving kids scratching their heads and thinking, "Wait, seriously? They're excited about that?"
Beautiful Lafayette Home for Sale: $3.5M
What's the most expensive house for sale in Lafayette? Well, it's not this one, but you're close: it comes in at 3rd most expensive right now. At 106 Riverbriar Road, just off of West Bayou Parkway, in Greenbriar Estates. The home boasts 4 bedrooms and 5 bathrooms, a lap pool, Jacuzzi, sauna, Chef's Kitchen, 4-car-garage, a pool house/guest house, a workshop, and a brick wall-enclosed yard. This 6,905-square-foot, $3.5 million home sitting on nearly one and a half acres, is beautiful. Let's take a tour.
The History Behind Lafayette's Street Names
We drive them on a daily basis. Some are smoother than others. Some we use more frequently than others. Some randomly start, end, and/or change names. They're the streets of Lafayette. The names behind many of these streets have interesting histories. We take a look at where those names come from and the impact their namesakes have had on the city and the parish.