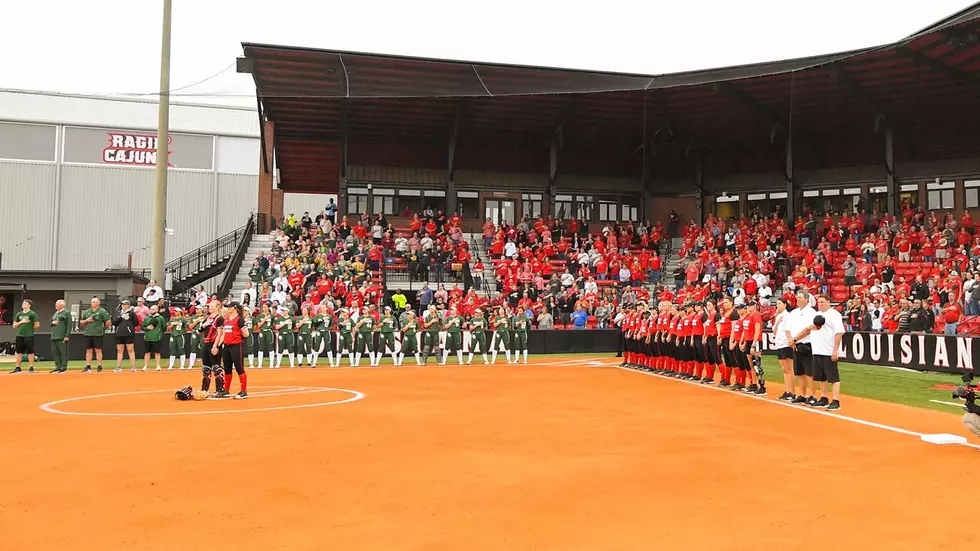 UL Baseball/Softball Media Day, What We Learned
Photo Courtesy: ragincajuns.com
Enter your number to get our free mobile app
It's so close you can almost taste it or smell it or hear it. On Tuesday, we heard about it, it being the Ragin' Cajuns Baseball and Softball seasons as they're very close to getting underway.
Personally, I learned a lot about these two teams and I wanted to share what stood out most to me.
On the baseball side of things, we heard from junior shortstop Hayden Cantrelle, senior CF Brennan Breaux, and senior pitcher Caleb Armstrong.
As for Softball, we got a chance to listen to senior OF Sarah Hudek, senior pitcher Summer Ellyson, and senior catcher Julie Rawls.
BASEBALL:
The players will all tell you the same thing regarding Matt Deggs, he's exactly the guy that they heard about and they love it.
Hayden Cantrelle is well aware that this is a big season for him in terms of the prospect of him being drafted and former Cajun Blake Trahan has been mentoring him a bit.
These guys are excited about the way the offense could look with coach Deggs and Jake Wells
While they're going to be emotional game one remembering the life of Tony Robichaux they say game one is just as important and emotional as game 70 is going to be in Omaha. Yes, they were all talking about and expect to get to Omaha, that's where the bar has been set.
The entire team has bought into the "Pack Mentality" and that understanding the role each of them plays and doing it to the best of their ability is going to be what carries them to where they want to go.
BJ Ryan was a great hire for this staff to teach pitching. Caleb Armstrong talked a lot about the impact he's having since he played for Coach Robe and was a two-time All-Star during his time in the Majors.
There are a lot of positions up for grabs on this team, tons of competition. The only positions that are locked up are catcher, shortstop and center field which are the best positions to be locked up at, all up the middle.
Tragedy has brought this bunch closer together, kind of like it did for the Softball team last season.
Coach Deggs doesn't like these guys, he loves and respects the heck out of them which from his words is not an easy thing to achieve especially on the baseball field.
This team has a lot of pitching depth and three alpha males transfers who could turn out to be their weekend starters.
Finally, Coach Deggs said they're playing for Cajun Nation and to honor Coach Robe.
SOFTBALL:
This is a very confident bunch but unlike the baseball team, they're taking a day by day approach rather than looking ahead to the Women's College World Series. That's not to say that they don't believe they can get there, they're just putting one foot in front of the next especially with such a difficult non-conference schedule to begin the season.
This team will play differently than it did last season. With the bandit aka Keeli Milligan graduated this team doesn't have the base-stealing threat it did a season ago. Gerry Glasco said he's going to trust his hitters because he's confident in their abilities.
Having Summer Ellyson AND Megan Kleist is going to be a problem for opposing lineups. Summer likes to attack hitters with her rise ball and Kleist has a nasty changeup.
Gerry Glasco added former All-American pitcher Taran Alvelo from Washington to work with his two current All-American pitchers. Alvelo is currently a player for the USSSA Pride, a professional softball team in which Gerry Glasco coached this summer.
Having Kleist in the mix has pushed Summer Ellyson to be even better and work even harder this season.
Between Ellyson and Kleist Glasco said they're going to try to split it 50/50 with Summer getting the nod opening day because of what she's done for the program.
Glasco is 100% focused on 2020 and they're all in. Adds, they'll worry about developing their other pitchers through bullpen work.
Julie Rawls said making the transition from OF to catcher wasn't as hard as she thought it might be, learned a lot from Lexie Comeaux and current coach Lacy Prejean who caught at Alabama.
The team had a special night practice last Friday to honor Geri Ann Glasco by hitting 51 home runs as a team, the number Geri Ann hit in her college softball career.
I don't know about you but I'm extremely excited about the 2020 baseball and softball seasons.
For all my sports posts and to hear my inner sports thoughts, make sure to keep up with me on Twitter, Instagram, and Facebook