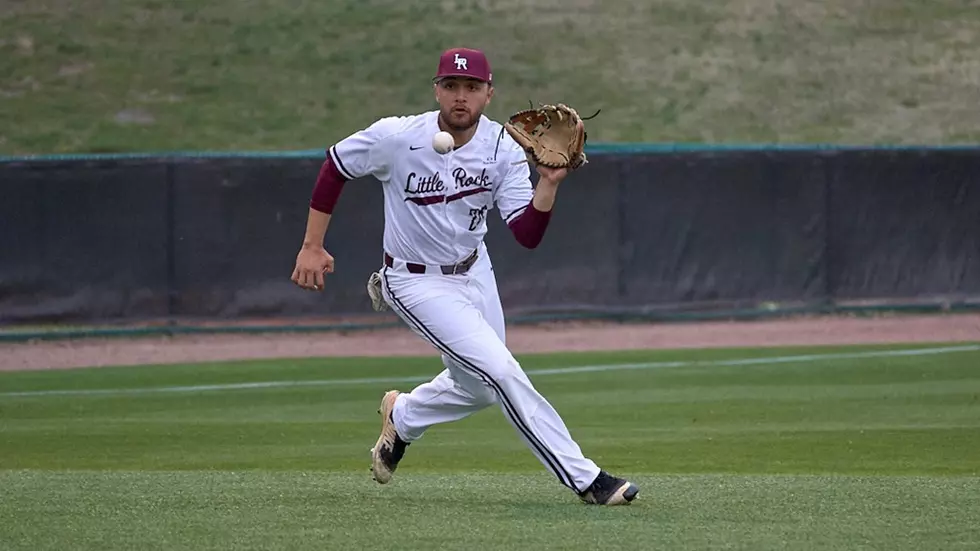 Sun Belt Tournament Preview – Preliminary Round – From the Bird's Nest
sunbeltsports.org
The Sun Belt Conference Tournament begins Tuesday at M. L. "Tigue" Moore Field at Russo Park in Lafayette.  Tuesday's action is a single elimination round with the bottom four qualifiers meeting.  The winners enter the double elimination bracket, which begins on Wednesday.  Here is a preview of the teams playing on Tuesday.
#7--LITTLE ROCK TROJANS (27-26, 15-14 Sun Belt)  Head Coach:  Chris Curry
STRENGTHS:--I honestly can't remember the last time I could say this, but Little Rock's biggest strength is its pitching staff.  The Trojans have a legitimate ace in Chandler Fidel and Aaron Funk has pitched well as a starter of late.  Justin Garcia is one of the better late inning guys in the league and he gets support from Donavin Buck and Hayden Arnold.  The team's ERA is under 4.00 in conference games.  Offensively there isn't a lot that stands out, either individually or as a team, although Marcus Ragan can make some things happen when he gets on base.  Matt Merino and Kale Emshoff can drive in runs and Ryan Benavidez has been playing very well of late.  Chase Coker is a solid hitter.  The Trojans are good, not great, defensively.
WEAKNESSES--They have to rely on Fidel on Friday's because they haven't shown they can beat someone's ace, especially down the stretch.  They are averaging five runs per game overall.  They aren't very patient hitters and don't get nearly enough walks.  As a result, their on base percentage is near the bottom of the league.They have some pop, but much of that is because of the dimensions in their ball park.  That may not play well at Russo Park.  During their six game losing streak (broken on Sunday), they were shut out twice and scored one run in another game.
OUTLOOK--It's hard to believe the Trojans were in the thick of it for the West Division title just a couple of weeks ago.  Now, here they are in the opening round.  The Trojans aren't afraid to use their bullpen a lot, especially Garcia and Buck and they cover up some sins.  But they've got to get good pitching, because their offense isn't good enough to hit really good pitching.  And, if the Trojans win, they get a date with Louisiana's Colten Schmidt.
#10--GEORGIA STATE PANTHERS (26-28, 10-19 Sun Belt)  Coach:  Greg Frady
STRENGTHS:  They've got three legit guys in the middle of the lineup.  Nick Gatewood is a dangerous hitter.  He's got very good pop in his bat, but he can hit for average as well.  Brandon Bell has put up all-conference type numbers and Justin Jones can hit the ball and can hit it a long way if you make a mistake.  Six guys in the lineup hit .280 or better.  Hunter Gaddis is one of the league's best pitchers and led the league in wins, not an easy thing to do with a team that finished tenth in the league.  Jansen Acton has emerged as a reliable arm at the end of the game.
WEAKNESSES:  Well, for starters, they strike out too much.  While they've got some guys in the lineup that can hit, you can navigate the bottom of the order and outside of the big three hitters, they struggle against someone's #1.  But the underbelly of this team is the pitching staff.  Liam Henry has helped out Acton in league games, but rest of the bullpen has been a complete disaster.  They walk way too many guys and there's no one in the pen that's unhittable.  And, no one else in the starting rotation will be confused with Gaddis.  They've turned a ton of double plays, but I would not call them a good defensive team.  Because they're not.
OUTLOOK--The Panthers had to bring Gaddis back out of the bullpen Saturday to get the final outs and I'm curious as to whether he's available on Tuesday.  He threw 65 pitches in four innings on Thursday and 20 pitches Sunday.  That will be an interesting decision.  Little Rock is good enough to beat Georgia State's #2 pitcher.   But if Gaddis doesn't go and Georgia State wins, they get to throw Gaddis against Coastal Carolina.  And, Gaddis is capable of beating anyone in the league.  That could make it interesting, but they've got to get by Little Rock first...with that bullpen.
#8--UTA MAVERICKS (21-33, 11-19 Sun Belt)  Coach:  Darrin Thomas
STRENGTHS--They have some guys who can hit.  Zac Cook, Christian Hollie, Omar Salinas and Noah Vaughn can swing it, and Vaughn has 13 home runs. And, UTA is good at putting the ball in play.  They're one of toughest to strike out in the Sun Belt  Logan Austin, Daniel James and Andrew Gross have done a good job out of the bullpen and there's a little depth there.  Their starters all have ERA's over 4.50 but they've all had their moments this season.
WEAKNESSES--They can hit and get on base, but getting them around the bases is an issue.  During their nine game losing streak to close the season, UTA has scored more than two runs only once.  They stubbornly refuse to use the bunt to move runners and they aren't very athletic and don't run much.  The bottom third of their lineup is relatively easy to navigate.  They are the lowest scoring team (in league games) in the tournament.  They've only won six games in 25 tries away from Clay Gould Ballpark.  UTA is just OK on defense.
OUTLOOK:--The offense has totally disappeared and the starting pitching has some trouble holding teams town.  That's not a good marriage, especially over the thought of facing Colten Schmidt or Jason Bilous on Wednesday.  UTA started the season well so you know they have some capabilities.  But if the team we've seen the last three weeks shows up in Lafayette, don't blink because you might not realize they came to town.
#9 ARKANSAS STATE RED WOLVES (20-31, 11-19 Sun Belt) Coach: Tommy Raffo
STRENGTHS--An offense that has heated up as the season has progressed.  Kyle MacDonald is one of the league's most feared hitters.  He's third in the league in hitting and first in slugging percentage.  In league play, he's slugging over .700.  Jeremy Brown caught fire when league play started and hasn't slowed down.  Drew Tipton had a 16 game hitting streak this season and Winston Welch, Casey Vaughan and Tobias Johnson provide good support.  Bradey Welsh and Nate Alberius haven't been good every time out, but when they are on, they are both really good.  Bo Ritter and Peyton Culberson are the tops in the bullpen.
WEAKNESSES--Start with the paper thin pitching staff.  They haven't had a third starter all season and, after the top two in the bullpen, the other guys have inflated ERA's.  Welsh and Alberius have to pitch deep into games because of the pen.  Add to that the fact the Red Wolves have given up a whopping 53 unearned runs this year and you've got a recipe for disaster.  The bottom third of their lineup hasn't hit very well and I don't see a lot of help from the bench.  Other than Grant Hawkins, there are no base stealing threats on this team.
OUTLOOK--Admit it.  You left the Red Wolves for dead about three weeks ago.  And, that was before they won their last three series, including two of those on the road.  Arkansas State has made it to the conference tournament semifinals in eight straight years.  Tommy Raffo's teams always play well in May and if A-State can get by UTA, neither Coastal Carolina nor Louisiana are looking forward to seeing Alberius on Wednesday.  They'll have to hit a ton to stay very long because of the lack of pitching depth.  But as always, you undervalue Raffo's Red Wolves at your own risk.
.