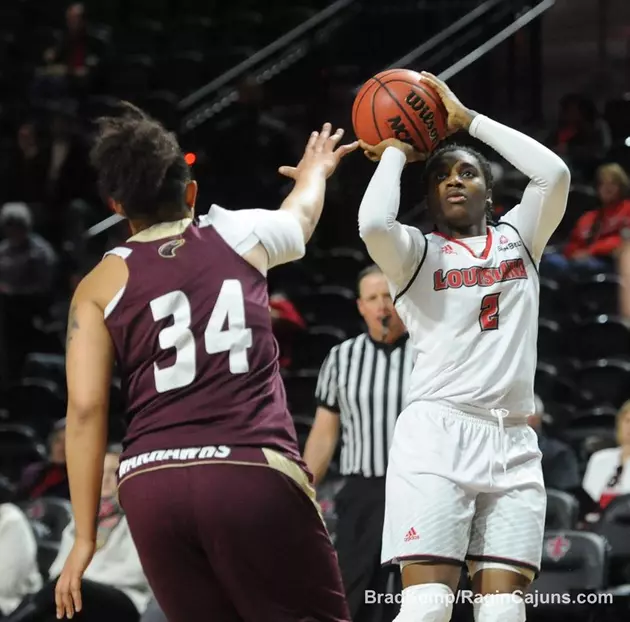 Ragin' Cajuns Light Up Georgia Southern From Beyond The Arc
(photo by Brad Kemp/RaginCajuns.com)
The Ragin' Cajuns buried Georgia Southern from behind the three point line Saturday night, setting a new record for made three-pointers in a game.
In the 79-52 blowout, Louisiana splashed home 14 three-pointers and shot over 50 percent from beyond the arc. Georgia Southern tried to keep up with the Cajuns by shooting 23 threes, but they were only able to convert five of them. The offensive output for the Cajuns was too much for the Eagles to match, and Louisiana walked away with their 10th win of the season and their third in conference play.
As usual, the Sun Belt's leading scorer led the way. Jaylyn Gordon was the top scorer with 25 points, and she hit an impressive seven shots from deep. Troi Swann and Simone Fields both chipped in 16 points as well, with Fields collecting another double-double with 12 rebounds on top of her scoring performance.
Nekia Jones was lights out from three. The new addition to the squad is still catching her stride and fitting into the flow on offense, but she hit three of her four shots from the three point line and broke double digits in the scoring column for the first time this season.
After trailing by two points after the end of the first quarter, Louisiana jumped all over Georgia Southern for the rest of the game, including a 22-1 run in the second quarter. The Eagles hit four of their first seven threes, but the Cajuns clamped down on them for the remaining three quarters, where Georgia Southern only made one of their next 16 shots from deep.
Louisiana outscored the Eagles by 27 from the three point line, which was the exact winning margin at the end of the game. The numbers don't lie in this case. Their shooting was the difference in the game.
The Ragin' Cajuns get some time to rest up before their next game, Thursday on the road against UT-Arlington. Garry Brodhead's team is halfway to twenty wins again, and they're still getting better.