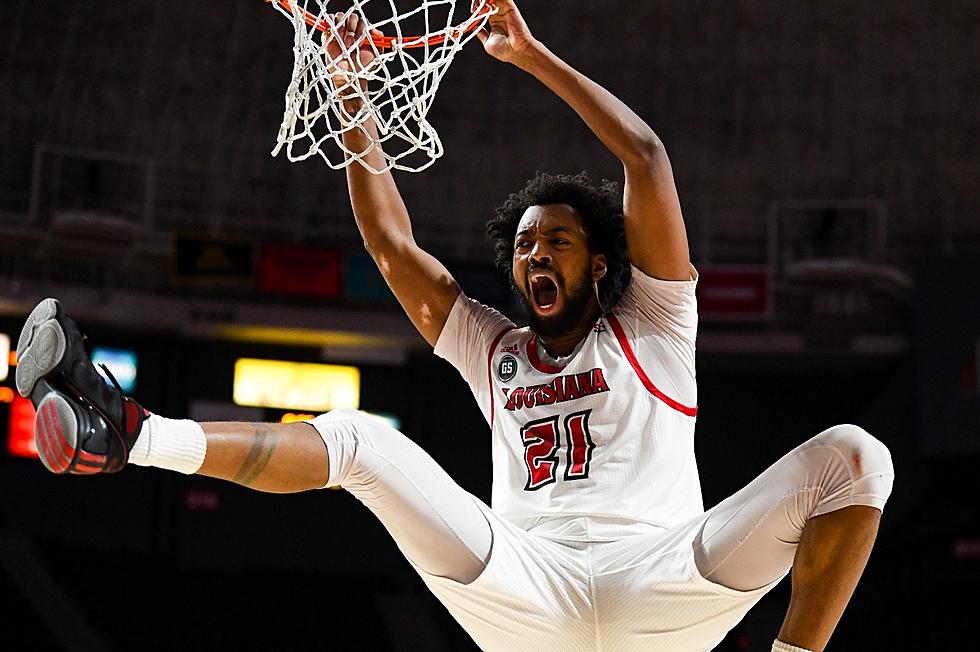 Ragin' Cajuns Jordan Brown Reportedly Withdraws From NBA Draft
via ragincajuns.com
According to Jon Chepkevich, Draft Express.com's Director of Scouting, Louisiana Ragin' Cajuns forward Jordan Brown, the 2023 Sun Belt Player of the Year, withdrew from the NBA Draft just hours before the deadline Wednesday night.  Brown has not made any announcements concerning his future plans. 
He still has one year of eligibility remaining so he could return to play another season with Louisiana.  He could opt to turn pro and try his hand in the G-League or overseas.  As a college graduate, Brown could transfer and play immediately.
Brown averaged 19.3 points per game, 8.6 rebounds, 1.8 assists and 1.2 blocks for the the Ragin' Cajuns last season en route to being 1st Team All-Sun Belt and SBC Tourney MVP.
The Ragin' Cajuns finished the regular season 23-7 before reeling off three straight to be crowned Sun Belt Tournament Champions.  They started the tournament easily beating Georgia Southern 67-49, then slipping by pesky Texas State 64-58.  In the Sun Belt Championship Game, Brown scored 16 points and grabbed 13 rebounds as the Ragin' Cajuns held off South Alabama 71-66.
With the automatic bid in to the NCAA Tournament, Louisiana was sent to Florida to play the Tennessee Volunteers, Trailing 48-30 with 12 minutes remaining in the game, the Cajuns got as close as 56-53, before falling 58-55.  Brown led all scorers with 16 points.
8 Great Deals on Homes for Sale in Lafayette, Louisiana
Looking for a new home, but worried about price? Here are some great deals currently available in the Lafayette area.
Places You Want to See Come Back in Lafayette, Louisiana
We wanted to know from you which places you would love to see come back to our area. There were more than 600 answers on our Facebook page. This gallery provides you with the top ten choices for a return.
Most Expensive Home For Sale in Lafayette, Louisiana
The real estate listing for this home, which is located at 155 Shannon Rd. in Lafayette, features a lot of beautiful architecture and plenty of features that make it an extremely desirable place to live.
This home is a 4-bed, 6-bath (two half-baths) home with a mix of brick, carpet, marble, and wood flooring. It's got a 3-car garage, completely covered, and other space in the driveway for guests to park.
With nearly 10,000 total square footage of space, this home could be yours for $3,795,000.