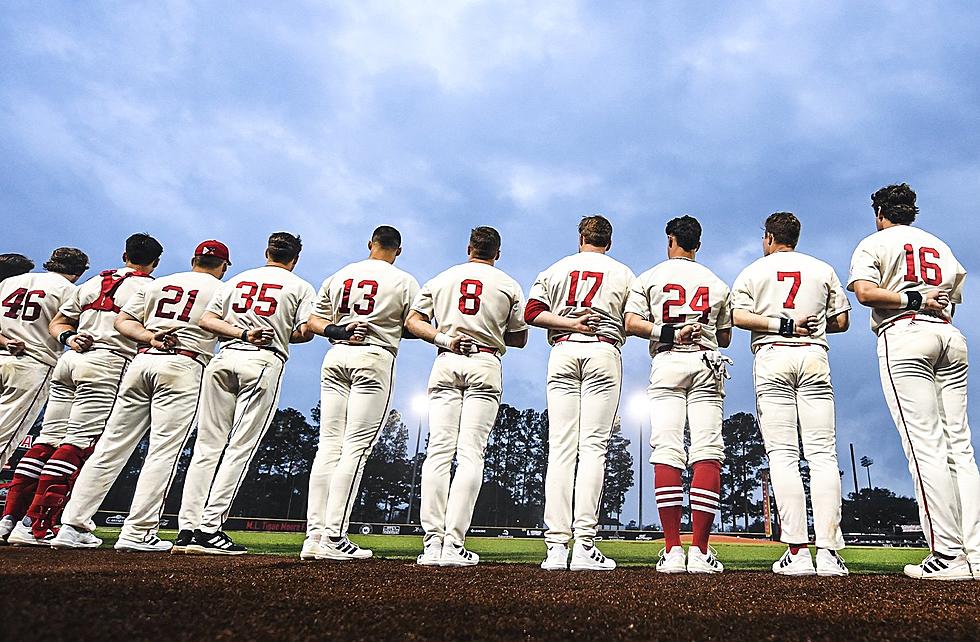 Ragin' Cajuns Baseball Honors Military Members With LA Salutes Weekend
via @ragincajunsbsb on Twitter
College baseball season is in full swing (ha) and Louisiana baseball is lighting it up.
After a series victory in Mobile against the ever-troublesome Jaguars of South Alabama, the Cajuns come home to the Tigue to take on Appalachian State, but there's a bit of extra spice in this weekend's festivities.
To honor America and her current and former military members, the Cajuns are celebrating "Louisiana Salutes" weekend as they face off against the Mountaineers.
That means both active duty military members and veterans can enjoy recognition during the games and, more tangibly, deeply discounted tickets.
By buying tickets from either the Cajundome box office, or visiting ragincajuns.com/lasalutes, members of the military can attend the games starting at $6 per ticket, an impressively low price equal to only 3 of the Tigue's famous $2 Natural Lights.
So for around $20, a vet or active duty service member can easily buy a ticket, a few beers and some of the Tigue's great stadium food (and I'm not just saying that, it really is good).
And take it from me, there's nothing like being at the Tigue when the Water Hose Boys start to heat up the bats.
So for all our enlisted and former enlisted out there, thank you for your service and go enjoy some baseball this weekend.
Geaux Cajuns.
Pro Athletes From the Acadiana Area
Louisiana has produced some of the best pro athletes in the world, especially in Acadiana.
10 Highest Paid Athletes in the World in 2022
Between the 10 of them, they will bring in a total of more than $992 million in 2022.
The Worst Tattoos on Professional Athletes
Some tattoos are more regrettable than others.