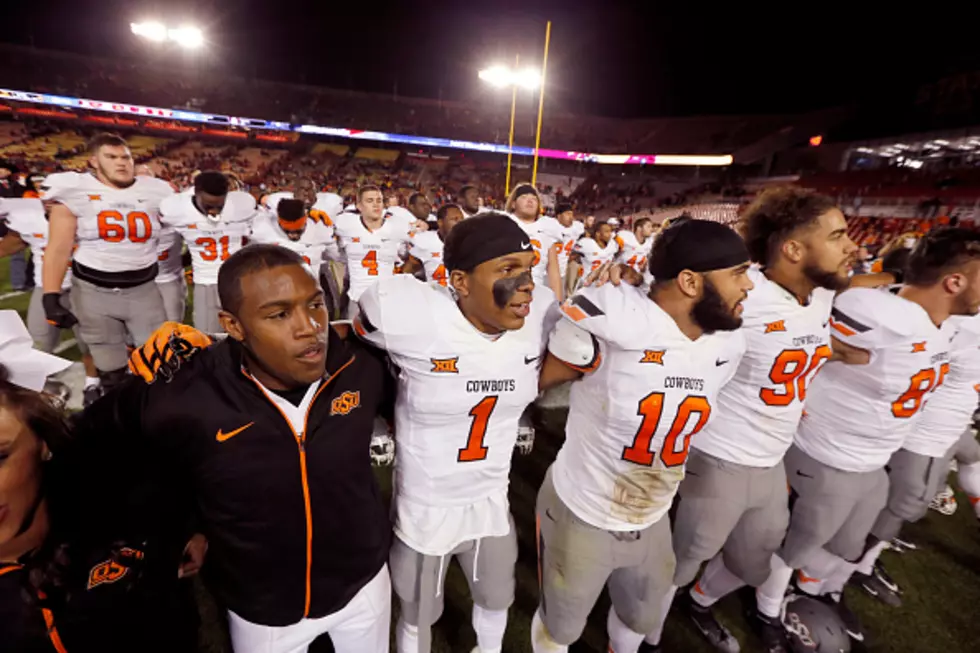 Five Intriguing Games This Weekend – From the Bird's Nest
David PurdyGetty Images
A couple of big ones in the Big 12, a chance for SOS points in the Big 10 and the true game of the week in Dallas.
MICHIGAN STATE (9-1, 5-1) at OHIO STATE (10-0, 6-0) (-13.5)  2:30, ABC--It's Senior Day at the 'Shoe and it may surprise some that OSU is such a big favorite.  Is it because the Buckeyes, after a couple of close calls, have beaten their last five opponents by an average of 26ppg?  Is it because Ohio State can play musical quarterbacks and still win?  Is it because the Buckeyes have a chance to make it 23 in a row?  Yes.  Yes.  And yes.
LSU (7-2, 4-2) at OLE MISS (7-3, 4-2)  (-4.5)  2:30 CBS---Might be a good day to have one of those split screen televisions.  Is Les Miles coaching for his job at LSU?  More than one writer in the area says yes.  Ole Miss' offense can put up points and the Tigers' secondary is going to get tested.  None of that may matter, however, unless LSU gets its offensive line to block someone for the first time in three weeks.  Regardless of how you feel about Miles, how do you feel about Joe Alleva hiring the next football coach?  Yeah..me neither.
BAYLOR (8-1, 5-1) at OKLAHOMA STATE (10-0, 7-0 (PK)  6:30 FOX--The Cowboys have remained unscathed even though they were considered the "other guy" during a good part of the Big 12 race.  The schedule was kind to the Cowboys as they got TCU, Baylor and Oklahoma all at Boone Pickens Stadium this year.  That home field advantage has always meant something in Stillwater.  Baylor showed they can move the football with their freshman quarterback.  But can they move it like OSU moves it?  The over/under of 78 may be low in this one.
TCU (9-1, 6-1) at OKLAHOMA (9-1, 6-1) (NL) 7pm ABC--Will Trevor Boykin play?  That's the question surrounding this game, which is why, as of Thursday morning, there is still no betting line on this game.  Even if the TCU signal caller can go, this one will be tough against the best defensive team of all the contenders in the Big 12.  Bob Stoops got a big one last week.  He's got a chance to get another.  Beware, however.  Last week was emotional...and Bedlam is around the corner.  Rest not, OU.
TULANE (3-7, 1-5) at SMU (1-9, 0-6) (-3) 7pm, ESPNEWS--So...why is this game intriguing?  Well, kinda like a car wreck.  SMU has once, against North Texas back when the Mean Green were setting futility records.  In their other nine games, SMU has given up 40 points or more each game...except one, where they gave up 38.  And they are the FAVORITE.  Let that one sink in...and make your choice between this one and TCU/OU.  Tough decision, eh?  I know.  We all rubberneck.