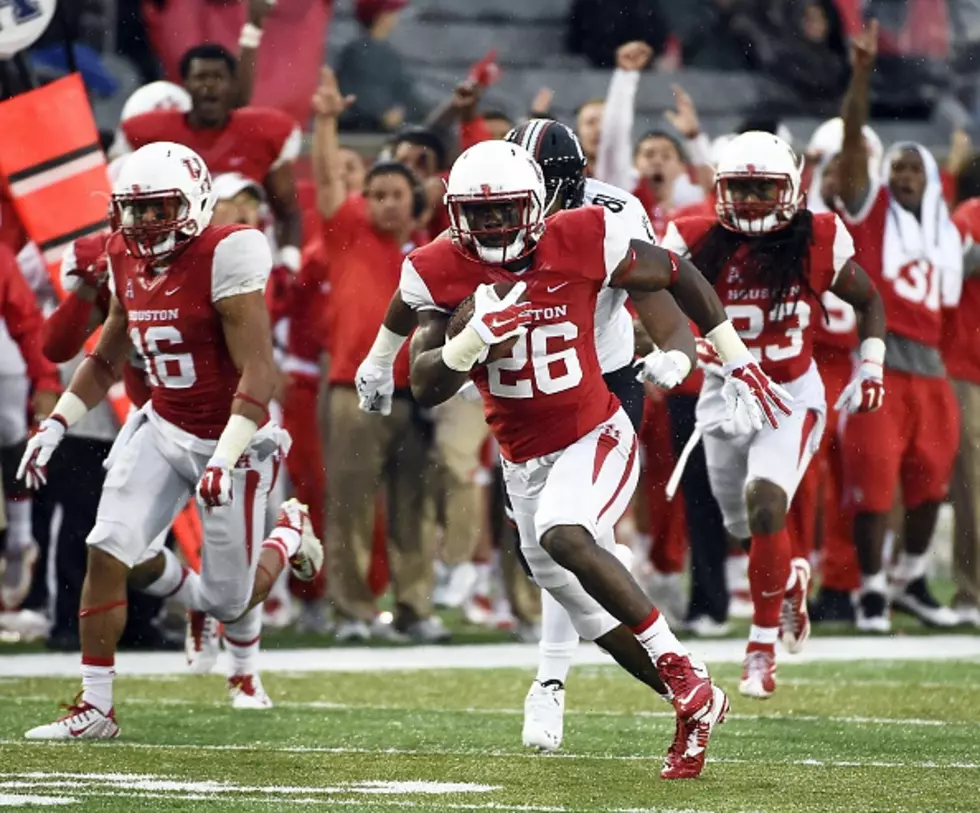 Five Intriguing Games This Weekend – From the Bird's Nest
Eric Christian Smith/Getty Images
This is the time of year when many of the ranked teams are going head to head and there are certainly a couple of interesting ones this week.  But there are others that may not look like much until you examine them more closely.  We have a good mixture of both this weekend.
#2 ALABAMA (8-1, 5-1) at MISSISSIPPI STATE (7-2, 3-2) (+8) 2:30 CBS--Why is this game intriguing?  Well, Alabama had a win last Saturday in the game of the year.  And, it's hard to get that sky high two weeks in a row.  Now they head to Starkville, where Mississippi State has quietly put together a pretty nice season.  They've won three in a row, the cowbells will be ringing and Mr. Prescott is a-waiting.  It's difficult to predict an upset here, but there are some things going in the Bulldog's favor, especially the elusive Mr. Prescott, who on any given day......
+8 OKLAHOMA STATE (9-0, 6-0) at IOWA STATE (3-6, 2-4) (+14), ESPN 2:30 --Coaches hate these games.  Hate them.  The Cowboys are coming off a huge win against previously unbeaten TCU and suddenly their resume looks a lot better.  And, that resume has a chance to grow in the next two weeks as OSU plays host to Baylor and Oklahoma.  But in the middle is this Cyclone's team.  They aren't very good.  And, that's the problem.  The potential is there for the Cowboys to sleepwalk through this one.  Fans will overlook this game.  But Mike Gundy won't.  He'll earn his money this week.
#21 MEMPHIS (8-1, 4-1) at #24 HOUSTON (9-0, 5-0) (-7) 6pm, ESPN 2--Was Memphis looking ahead to this game when they lost to Navy last week?  Perhaps, although Navy is a good club in its own right.  The Tigers were passed by the Midshipmen in the race for the spot in the Access Bowl in the latest rankings.  And, Memphis has to go to Temple next week.  The Cougars are ranked below the Tigers despite their undefeated record and the lack of a really great win is the reason.  Well, the Cougars have it in their hands.  They don't play Temple but they do get Navy at home in the final week.  Memphis has it in its hands as well.  They head to Temple next week.  The winner of this game will have the inside track to a big payday.
#22 TEMPLE (8-1, 5-0) at SOUTH FLORIDA (5-4, 3-2) (+2.5)  6PM CBSCollegeSports--The other player in the Access fight is Temple and they aren't out of it.  The Owls' only loss was that last minute defeat to Notre Dame.  They host Memphis next week and of course, will get a strength of schedule bump if they win the AAC.  In fact, it's all probably going to come down to that championship game.  But first, the Owls have to take on Willie Taggart's Bulls, who have won three in a row.  Beware the trap, Owls.  Beware the trap.
#12 OKLAHOMA (8-1, 5-1) at #6 BAYLOR (8-0, 5-0)  (-2.5)  Nice season for Baylor.  But now it's time to play football.  OU, then trips to Oklahoma State and TCU the two weeks after this.  Oklahoma has been good since that inexplicable loss to Texas.  Baylor now has a chance to prove if they are worthy.  They have a great chance to wind up in the top four if they run the table.  But they have to get by this week before they can start thinking about it.  How good are the Bears?  We are about to find out.