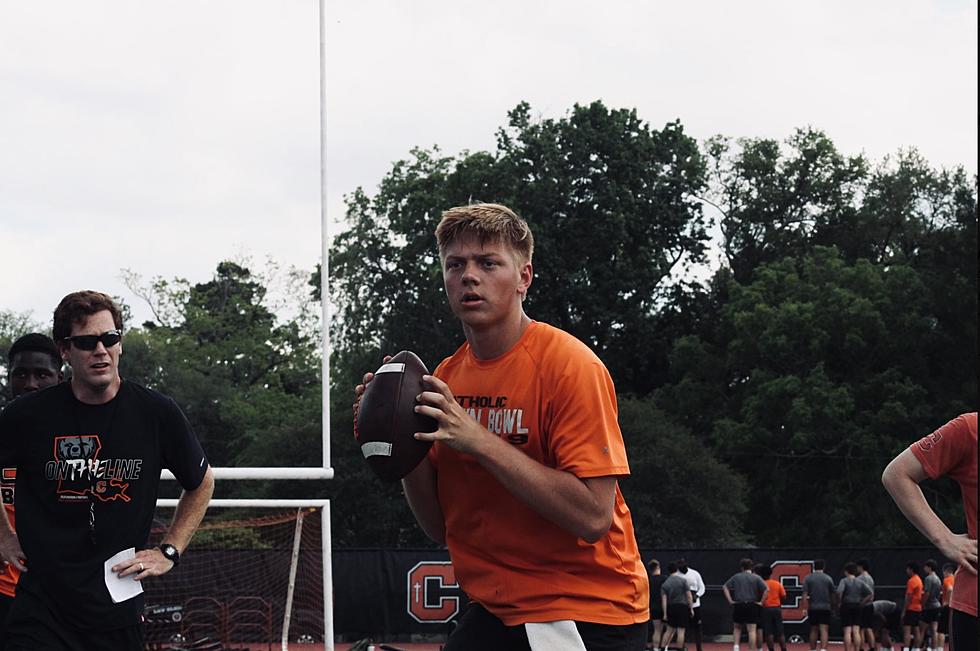 Daniel Beale, Louisiana All-State QB, Commits to Ragin' Cajuns
Courtesy of Catholic (BR) High
The Louisiana Ragin' Cajuns received a commitment for the Class of 2024 and it was a big one.  
Catholic (Baton Rouge) High quarterback Daniel Beale announced via his twitter account his decision early Sunday afternoon.
Beale, 6'2", 190lbs, was a 5A All-State QB for Catholic and according to 247 Sports, ranked as a three-star prospect.
Beale explained to The Advocate's Robin Fambrough why he decided to play for Louisiana. 
"I've been high on UL for a while, and they've been recruiting me for a while," Beale said. "Coach Des (head coach Michael Desormeaux) and all the coaches over there are a great group of people.
"I feel like their offense will fit me well, and I'll be able to thrive in it. It's a good place. They've got their culture, and it's something you don't want to miss out on."
Most Expensive Home For Sale in Lafayette, Louisiana
The real estate listing for this home, which is located at 155 Shannon Rd. in Lafayette, features a lot of beautiful architecture and plenty of features that make it an extremely desirable place to live.
This home is a 4-bed, 6-bath (two half-baths) home with a mix of brick, carpet, marble, and wood flooring. It's got a 3-car garage, completely covered, and other space in the driveway for guests to park.
With nearly 10,000 total square footage of space, this home could be yours for $3,795,000.
Fun and Free for Kids and Parents in Lafayette
It seems like the cost of everything is going up. If you're a parent you want to take your kids out to enjoy our area, but it would also be nice to know where you can go and find attractions that don't cost anything.
Largest Home Currently for Sale in Lafayette, Over 10,000 Sq Feet
This home sits on over 8 acres of land on the Vermilion River and, with 7 bedrooms and 8 bathrooms, it clocks in at over 10,000 square feet.