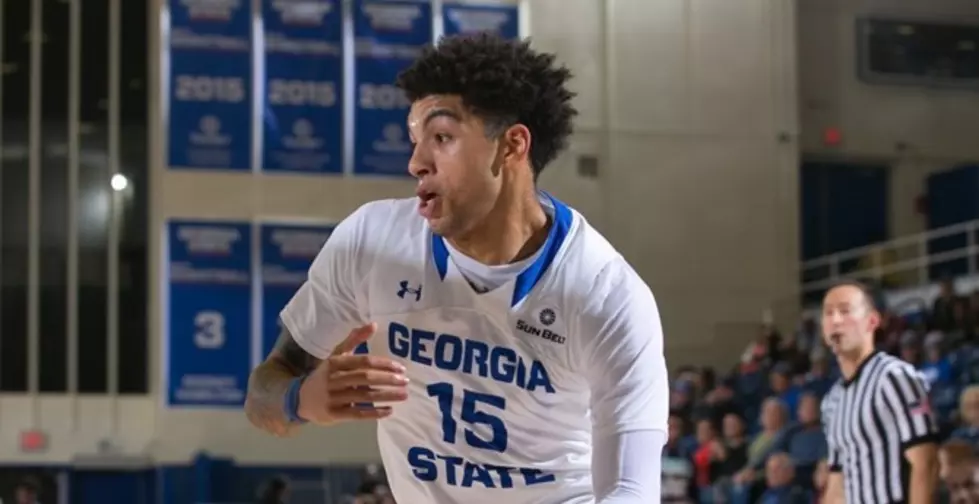 Saturday's Scores From the Sun Belt
sunbeltsports.org
There will be a Sun Belt showdown Thursday night.
After their respective victories on Saturday, the two hottest teams in the Sun Belt will clash in Atlanta as Louisiana takes on Georgia State.  The Cajuns have won ten straight games, while GSU has won nine in a row.
Besides Louisiana's dismantling of ULM, 80-59 on Saturday, here are the other highlights from around the league.
GEORGIA STATE 81, LITTLE ROCK 51--The Panthers (18-6, 9-2) got a career high performance from Devin Mitchell, who nailed ten three pointers en route to a 38 point night.  Georgia State made 15-27 from beyond the arc for the game, with Mitchell hitting 10-13.  Little Rock (5-19, 2-9) got 18 points from Cameron Corcoran.
APPALACHIAN STATE 59, TEXAS STATE 56--Griffin Kinney had 17 points and Ronshad Shabazz added 15 to lead the Mountaineers (10-15, 5-7) to the road win.  App State held the Bobcats without a field goal in the final 4:32.  Nijal Pearson led Texas State (14-11, 7-5), who fell for the third straight game.
UTA 87, COASTAL CAROLINA 80--Johnny Hamilton led the way with 20 points and 13 rebounds while Davion Turner had a career high 20 as the Mavericks (15-10, 6-6) got back to the .500 mark in league play.  Coastal (11-14, 5-7) got within one point with 8:56 remaining but could not take the lead.  Zac Cuthbertson led the Chanticleers with 15 points and 11 rebounds.
TROY 80, SOUTH ALABAMA 63--Wesley Person and Jordan Varnado combined for 35 points to lead the Trojans to the season sweep of their in-state rivals.  All told, the Trojans (10-13, 4-6) had five in double figures and hit ten three pointers in the game.  South (11-12, 4-6) got 17 points each from Trhae Mitchell and Josh Ajayi.
ARKANSAS STATE 91, GEORGIA SOUTHERN 89--Welcome to Saturday night in the Sun Belt.  Devin Simms led four Red Wolves in double figures in a game tarnished by a staggering 61 personal fouls.  Arkansas State (9-15, 4-7) made 30-44 free throws.  Georgia Southern (16-8, 7-4) was whistled for 33 fouls in the game.  Two Eagles' players fouled out and four more had four fouls when the game ended.  Georgia Southern hit 21-29 free throws as the home team was whistled for 28 fouls and finished the game with five players carrying four personals each.  Mike Hughes led Georgia Southern with 27 points.