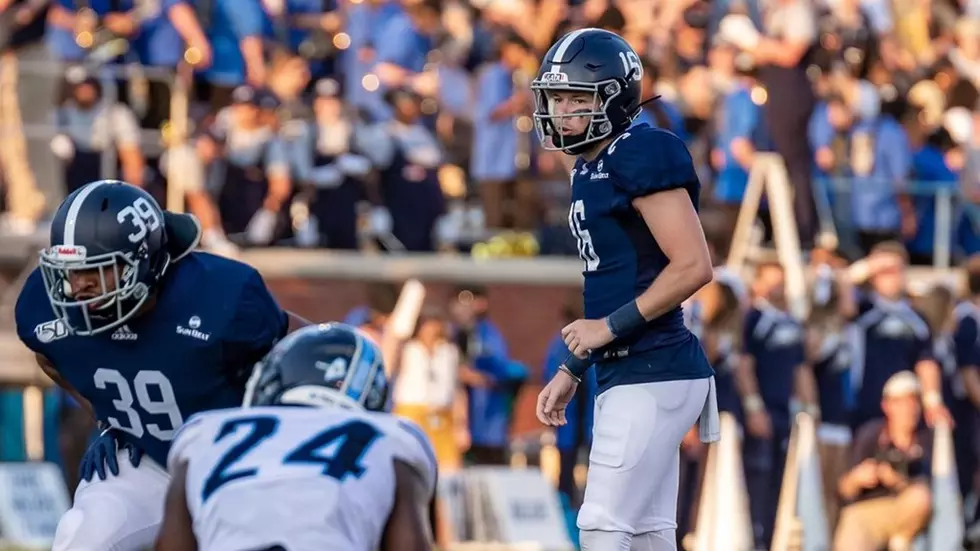 Five Keys to Beating Georgia Southern – From the Bird's Nest
sunbeltsports.org
Time for conference play.
The Louisiana Ragin' Cajuns are off to a 3-1 start with a rare non conference road win.  The win was important, not only for the Cajuns to get to 3-1 but to show themselves they can win on the road.
That could come in handy this weekend.
Georgia Southern was a ten game winner last year.  They are off to a 1-2 start, with both losses coming against Power Five schools.  This will be the Eagles first game against a Group of Five opponent and they've had an extra week to prepare.
In order for the Cajuns to start conference play 1-0, here are some things to ponder.
GET OFF TO A GOOD START--This is really imperative on the road.  Georgia Southern will have a very good crowd and their students to as good a job at setting the atmosphere as anyone in the league.  Nothing like jumping out of the gate early to subdue a crowd.  A bad start is never a good thing.  Especially this week.
WIN THE THIRD DOWN BATTLE--Neither team is good at throwing the football downfield.  The team that has more third and long situations is at a great disadvantage.  It's up to the Cajun defense to be solid on first and second down and put the Eagles in a position that makes them uncomfortable.  They'll run it even on third and long, but it doesn't take a genius to know those are tougher to convert.
I SPY WITH MY LITTLE EYE--Regardless of who the quarterback is, someone has to hit him.  Every time.  Not to injure, of course, but popping an option quarterback on a regular basis can cause issues.  The Cajun who is responsible for that needs to make his presence known...always.
MANY HAPPY RETURNS--The Cajuns have been close this year to popping good returns in special teams.  I don't know how many chances they'll get, especially in the kickoff game, but when they have an opportunity, they need to chew up some field position.  Conversely, the Cajuns have to do a good job in covering kicks, something they've been solid in all season.
STAY THE COURSE---This is a sixty minute game.  Even if things don't go well early, the Cajuns need to remember keeping the three headed monster fresh pays dividends as the game goes along.  Keep pounding.  Eventually the success will be there.