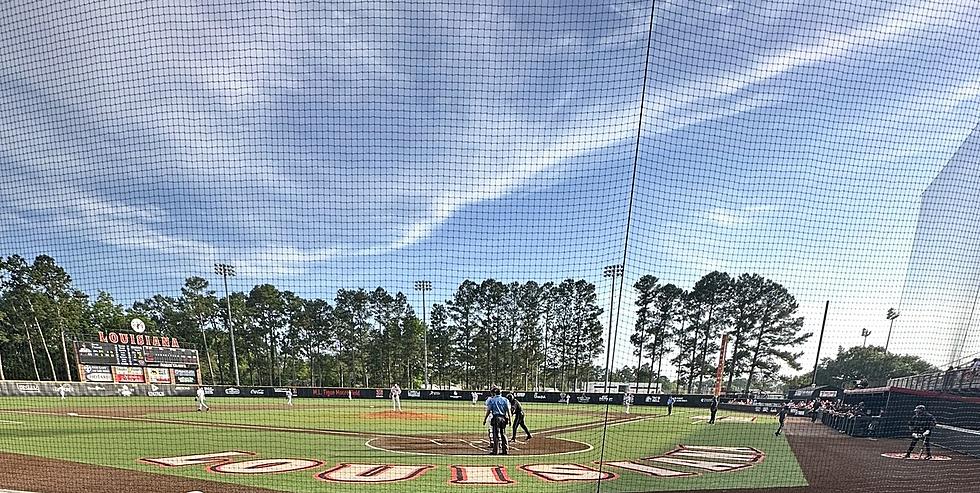 Cajuns Baseball Starts the Weekend Out Strong Against Texas State
via @JFitzTV on Twitter
The Ragin' Cajuns played some quality baseball tonight.
Jackson Nezuh put together 6 innings of impressive pitching to start things off, including a protracted 11-pitch battle that ended in a great strikeout.
The Cajuns got off to a quick start on offense too, with the very first pitch of the game leading to a beautiful double from Max Marusak.
The Bobcats' ace Levi Welles put together a few great innings, and it looked like the makings of an epic pitchers' duel.
But then the 6th inning happened and the Cajuns' batting order exploded. Julian Brock recorded his first career triple (that's right, career). It seemed like the boys couldn't not get on base, and that helped the good guys open up a 5-run lead.
Nezuh gave up a few hits to let the 'Cats sneak in a couple, but Deggs' batters knew what to do and answered with a sacrifice fly in the next half-inning, and then a Roccaforte solo shot to punctuate a statement win to start the weekend.
You can catch game 2 of the series on KPEL 96.5 FM at 3:30 pm tomorrow, first pitch flies at 4.
Pro Athletes From the Acadiana Area
Louisiana has produced some of the best pro athletes in the world, especially in Acadiana.
Most Valuable Franchises in American Sports
Five of the ten most valuable franchises in American sports come from the NFL.
NFL Records Held By New Orleans Saints Players
A number of current and former members of the New Orleans Saints hold NFL records.