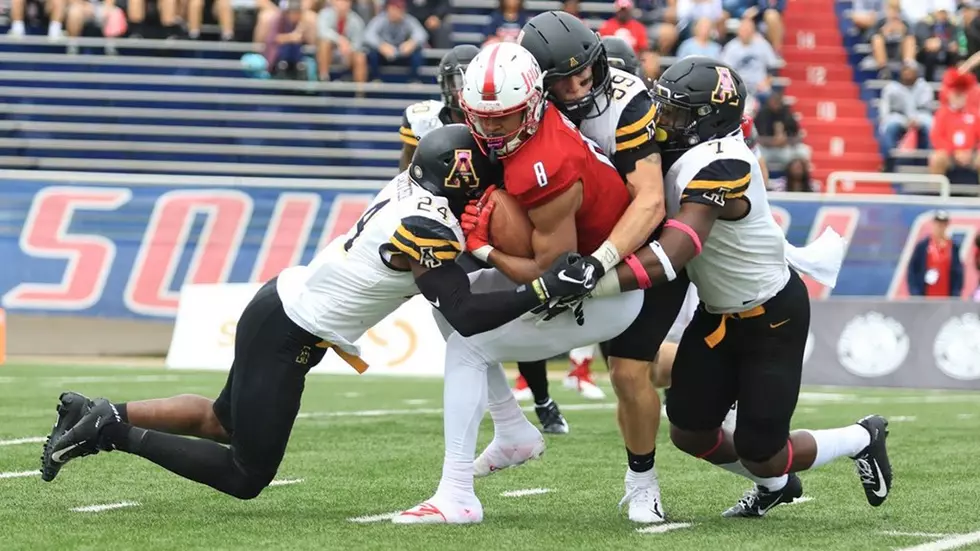 Weekend Scores From the Sun Belt
sunbeltsports.org
App State keeps rolling, Georgia State becomes bowl eligible and Arkansas State gets back on the winning track.  Here's what happened in the Sun Belt in Week 9 of the college football season.
APPALACHIAN STATE 30, SOUTH ALABAMA 3--App State (7-0, 4-0) took advantage of a Saturday ESPNU appearance to throttle the Jaguars.  The defense was the shining star for the Mountaineers as they limited South Alabama (1-7, 0-4) to just 134 yards in total offense.  The Jaguars managed just two yards of offense on their first 19 plays.  App State rushed for over 300 yards in the contest.
GEORGIA STATE 52, TROY 33--Tra Barnett set records for rushing in a game, season and career as the Panthers (6-2, 3-1) rolled to their fourth straight win.  Barnett amassed 242 yards against a Trojan defense that had been solid against the run all year, and the Panthers broke the school record for rushing yards in a game for the third time in four games.  Quarterback Dan Ellington accounted for four touchdowns, two passing and two rushing in the contest.  Kaleb Barker led Troy (3-4, 1-2) with 421 yards passing and a pair of touchdowns.
ARKANSAS STATE 38, TEXAS STATE 14--Marcel Murray topped the 100 yard mark rushing for the second straight game and scored twice to lead the Red Wolves (4-4, 2-2) to the win at Centennial Bank Stadium.  Omar Bayless had another great night receiving, hauling in seven passes for 77 yards and a pair of scores.  Texas State (2-5, 1-2) played without starting quarterback Gresch Jensen in the contest.
GEORGIA SOUTHERN 41, NEW MEXICO STATE 7--Playing in the rain for the second straight game, Georgia Southern (4-4) spotted the Aggies (0-8) an early touchdown, and then rolled to the easy win.  Wesley Kennedy and J. D. King each rushed for 143 yards and Kennedy added a punt return touchdown in the win.
Louisiana, ULM and Coastal Carolina were idle.
CURRENT STANDINGS
EAST:  App State 4-0, Georgia State 3-1, Georgia Southern 2-1, Troy 1-2, Coastal Carolina 0-3
WEST:  Louisiana 2-1, ULM 2-1, Arkansas State 2-2, Texas State 1-2, South alabama 0-4
THIS WEEK'S GAMES:  Georgia Southern at Appalachian State (Thursday, ESPNU), Troy at Coastal Carolina, Texas State at Louisiana, Arkansas State at ULM