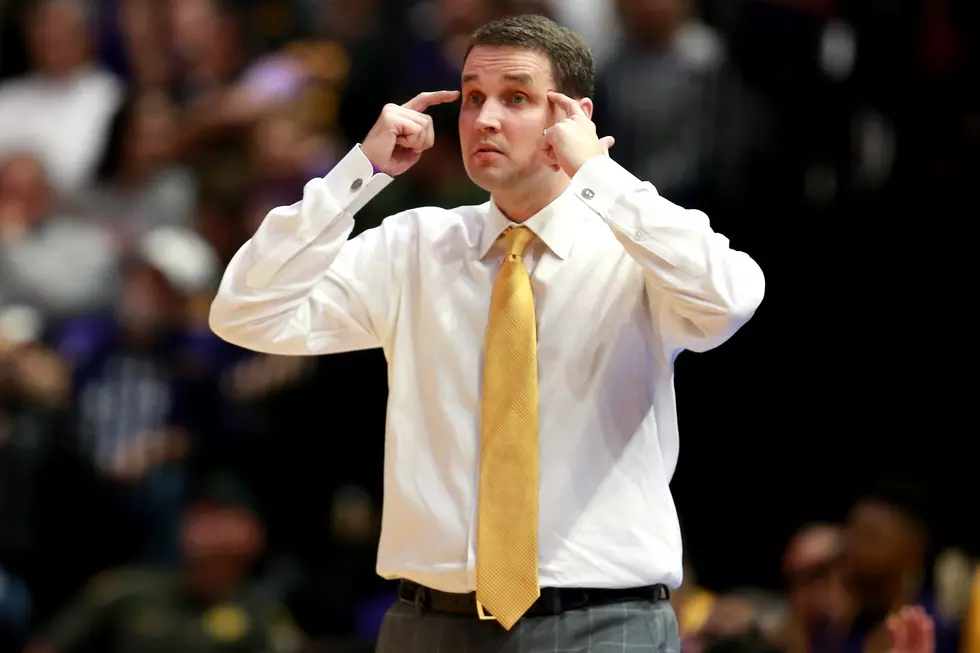 Opinion: LSU's New AD Will Have to Deal With Will Wade
Getty Images/Sean Gardner
New LSU Athletic Director Scott Woodward starts his new job next week.
Dealing with his basketball coach is going to be a priority.
Because Will Wade has been implicated in wrongdoing for a third time.
Yesterday, a third inference of head coach Will Wade trying to buy players surfaced in a federal bribery trial when Arizona assistant Emanuel "Book" Richardson said Wade told him he had a "deal in place" to secure 6-10 forward Naz Reid, allegedly saying "I got $300,000 for him."
It is the third time Wade has been connected to procuring players.  Back in October, a transcript of a wiretapped conversation has Wade saying he could "get what you need," meaning money, to get recruit Balsa Koprivica to go to LSU.  Then, just before the NCAA tournament, a report by Yahoo Sports reported Wade was on a wiretap discussing a "strong ass offer" made to a recruit believed to be Javonte Smart.
Following that report, Wade refused to meet with LSU officials, leading then-athletic director Joe Alleva to suspend Wade.  Wade did not coach LSU in their final regular season game, the SEC Tournament or the NCAA Tournament.  Wade finally met with school officials after the Final Four and was reinstated as head coach.
Wade agreed to an amended contract that would allow LSU to fire him with cause if he is found to have committed Level I or Level II NCAA violations, or if the NCAA infractions committee issues a formal notice of Level 1 or Level 2 violations to LSU involving Wade.  He also agreed not to sue the university if he were fired for cause.
We don't even know how much Woodward really knows about the situation.  He's been busy wrapping up his tenure at Texas A&M.  In his introductory press conference he said he had not had a conversation with Wade.
But once he gets to the Baton Rouge campus, Woodward will be dealing with question after question about Wade.  The LSU coach has not been charged with anything (yet) and Woodward will need to walk a fine line between facts and innuendo.
It's interesting to note the NCAA has not had a representative at the federal trial.  The organization, which is famous for moving along like a herd of turtles, can use all of the evidence at the trial in their own investigation.  But their decision to stay away from the trial sends the message they are in no hurry.
For Wade, that's a good thing.  For Woodward, it means he'll be dealing with more than fund raising for quite some time.
But the longer this takes, the bigger the stain on LSU athletics.