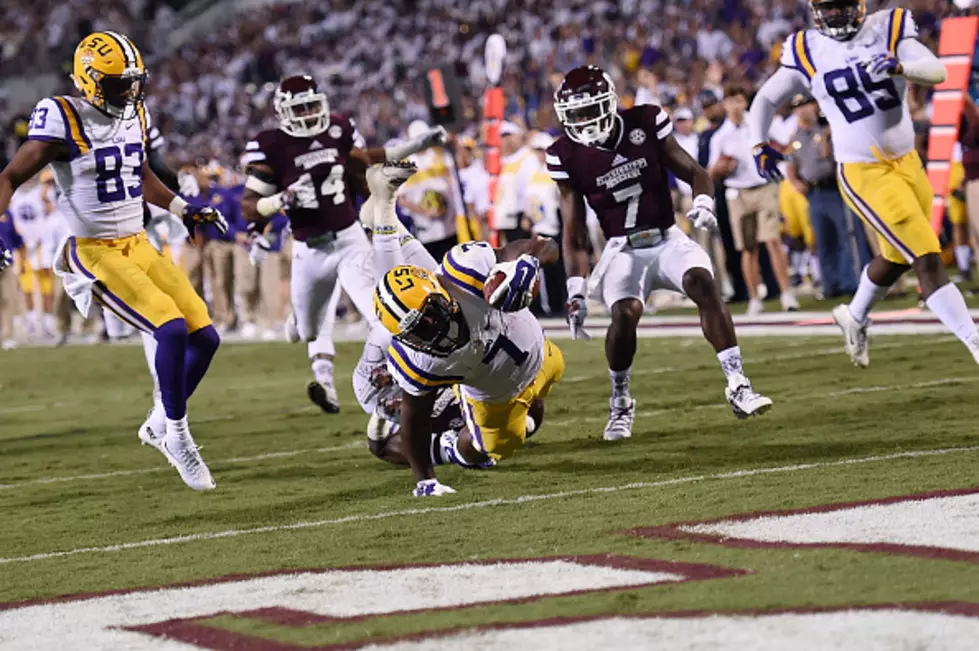 LSU Survives Mississippi State
Photo by Stacy Revere/Getty Images
LSU is 1-0 on the season, earning their first win Saturday night in Starkville, defeating Mississippi State for the 15th time in 16 years, escaping with a 21-19 victory.
After building a 14-0 first quarter lead, Les Miles and the Tiger offense remained conservative, reaching the end zone only one more time in the third quarter.
Meanwhile, the Bulldogs relied more on their passing game in the second half, chipping into the Tiger lead, scoring 13 unanswered points in the 4th quarter. However, a missed two point attempt kept the Tigers up by two with 4:00 minutes remaining.
LSU didn't attempt a pass on their final drive, electing to give the ball to Leonard Fournette, who carried a large load on his back all night.
The Bulldogs eventually forced a punt, driving all the way down to the Tigers 29 yard line in the final seconds, but a delay of game penalty pushed them back, leading to a potential 52-yard game winning field goal. As it sailed wide right, Miles and his team breathed a sigh of relief, happy to get out of Starkville with a victory.
Offensively, LSU starting quarterback Brandon Harris (pictured left) showed flashes of his high potential, particularly in the first half. He attempted only 14 passes on the night, completing 9 for 71 yards. He also rushed for 48 yards on 5 carries.
"He threw the ball extremely well. He didn't throw it to them (Mississippi State) at all," said Miles of his starting quarterback. "You could argue with a couple of his decisions, but you know what, overall he had a nice calm demeanor, did the things the coaches wanted him to do...he played extremely well."
Fournette was the best player on the field, scoring all three Tiger touchdowns, rushing for 159 yards on 28 carries.
LSU outrushed the Bulldogs 266-43, while Mississippi State dominated the Tigers in passing yards, winning the aerial battle 335-71.
Quarterback Dak Prescott led the Bulldogs comeback that fell short, largely with his arm in the second half, going 34 of 51 on the night for 335 yards and 1 touchdown.
"Our defense played very good coverage and made tackles well short of the first downs and really, in my opinion, played well," said Miles to ESPN shortly after the win.
With a 1-0 overall and conference record, #14 LSU welcomes #6 Auburn to Tiger Stadium next Saturday. Kickoff is set for 2:30.