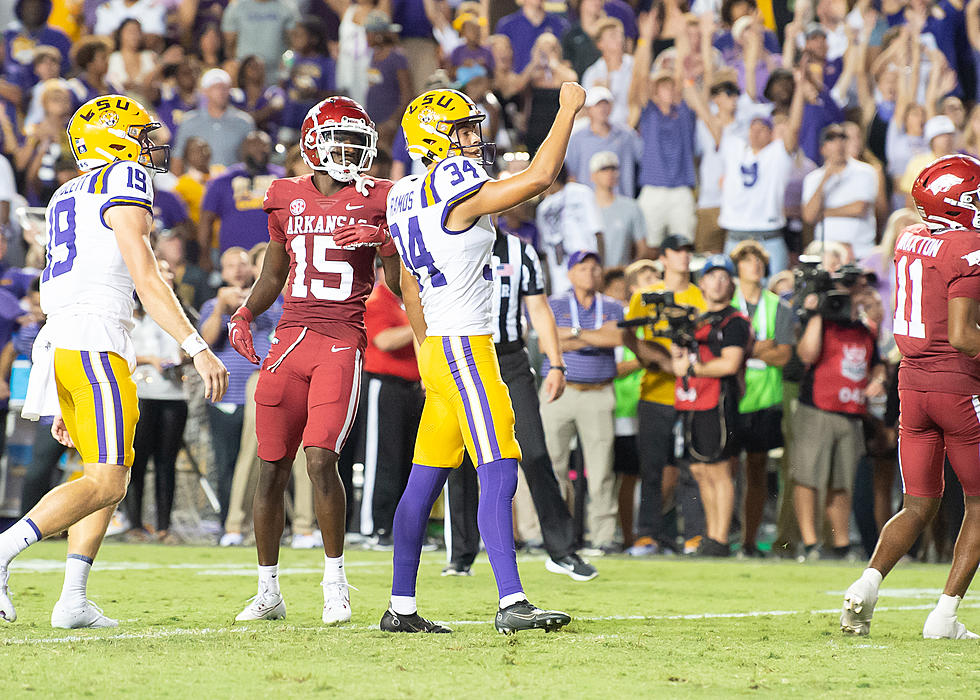 Late Field Goal Lifts LSU Past Arkansas 34-31
Scott Clause-USA TODAY Sports
Damian Ramos' 20 yard field goal saved the night as the LSU Tigers slipped by the Arkansas Razorbacks 34-31.
Arkansas took a 13-3 lead late in the 2nd quarter on a 19-yard pass from KJ Jefferson to Tyrone Broden.  The Tigers came right back as Jayden Daniels hit Bryan Thomas, Jr in stride for a 49-yard touchdown, pulling LSU within 13-10 at halftime.
LSU took control in the 2nd Half, leading 31-24 on a Daniels to Malik Nabers 20-yard score, but the Razorbacks wouldn't go away.
Jefferson led the Hogs on a 10-play, 75-yard drive, that was capped off with a TD pass to Luke Hasz for 11 yds to tie the game at 31-31.
But Daniels rescued the Tigers with 9-play, 72-yard drive of his own resulting in Ramos' game winning field.
Daniels finished 20-29 with 320 yards, 4 touchdowns and 1 INT.  Both Thomas (133) and Nabers (130) had over 100 yards receiving and two touchdowns apiece.
LSU improves to 3-1 and 2-0 in the SEC.  The Tigers will be at Ole Miss next Saturday at 5P.
2023 LSU Tigers Football Season In Review