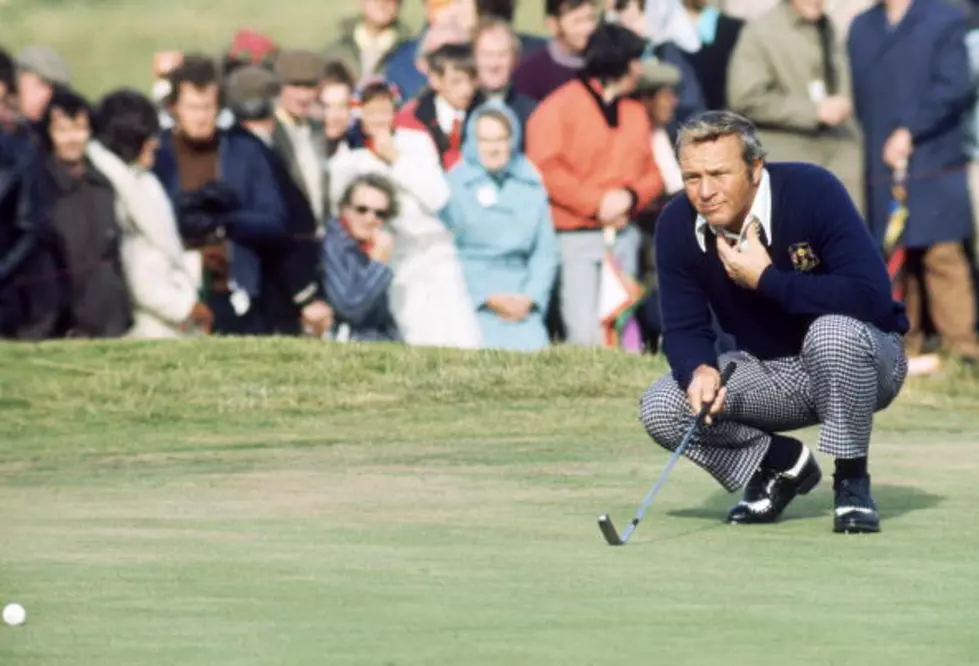 Golf Legend Arnold Palmer Dies At 87
(photo by Don Morley/Getty Images)
Arnold Palmer was more than a great golfer, he was an icon. The sport of golf wouldn't be where it is today without his revolutionary career, and his shining personality.
The entire sports world mourns the death of the man who changed how golf was seen by the masses. Palmer passed away Sunday at the age of 87, but "The King" will be remembered forever for his character, class, and of course, his game.
Palmer's 62 PGA Tour victories rank fifth all time, but his greatness goes far beyond the numbers.
Before Palmer graced the greens and finessed the fairways, golf wasn't really a sport for the masses. It was a country club sport, but he ushered in the television era by capturing audiences all around the country with his aggressive style and boyish charm. His smile could part the clouds and bring out the sun, and his swing defied the physics of his frame. He was never the biggest man on the course, but you couldn't tell by tracking his scorecard.
It wasn't fans who nicknamed him "The King." It was his peers. Not only was he one of the most genuine gentleman in all of sports history, he attempted things no other golfer dared to try.
In a touching New York Times tribute, Palmer described his game simply, and in his classic humble fashion.
"You can make mistakes when you're being conservative, so why not go for the hole?" he said. "I always feel like I'm going to win. So I don't feel like I'm gambling on a lot of shots that make other people feel I am."
He was bigger than the game. Not only did he dominate the golf course, he used his success to make positive change in as many realms as he could touch.
The World Golf Hall of Famer helped build more than 300 golf courses, led fundraising efforts for the Arnold Palmer Hospital for Children and Women, and he was presented the Presidential Medal of Freedom by George W. Bush in 2004. Not to mention, he flew around the globe as a pilot. He was a man of many passions, and he saw all of them to their end.
Palmer's closet holds four green jackets, making him the master of The Masters. With his credentials, he could have been mayor of Augusta.