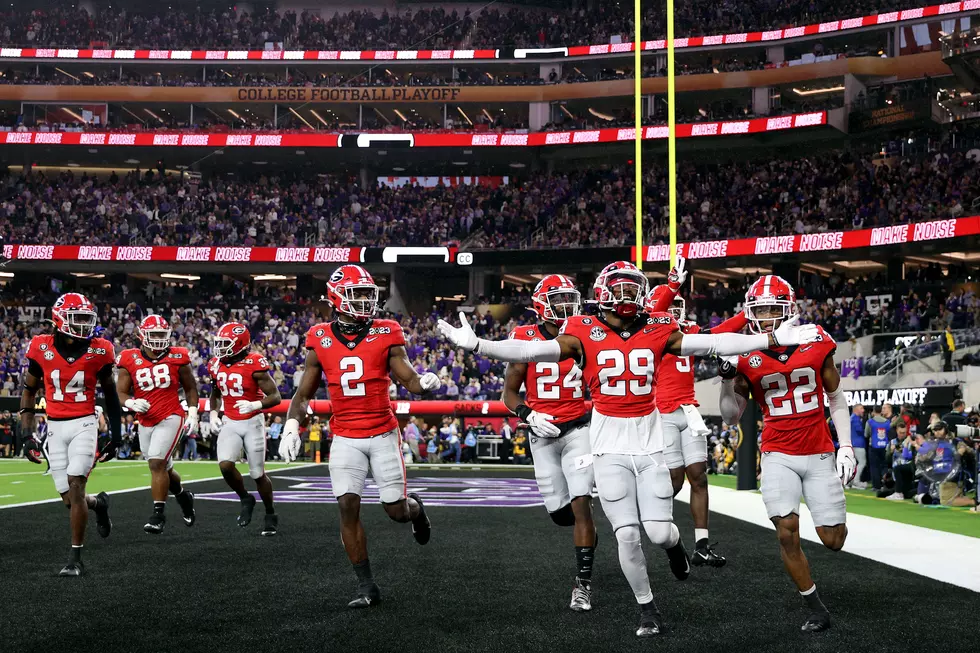 Georgia Claims Their Second Straight National Championship With a Dominant Performance
Getty Images
The college football national championship featured a matchup between David and Goliath. Goliath was none other than the Georgia Bulldogs who were competing in their 2nd straight national championship and looking to go back-to-back for the first time in program history. The Horned Frogs of TCU were the surprise of college football. Coming off a 2021 season where they went 2-10 and looked to rebuild after firing long-time coach Gary Patterson. First-year head coach, Sonny Dikes, revamped this program and brought them to their second-ever championship game and the first since 1938. The heavy favorite vs the unexpected underdog.
1Q
The game looked like it was going to be all Dawgs early on as they forced TCU to go three-and-out on the first possession of the game. They followed that up with a quick and commanding drive that ended with a touchdown scamper from star quarterback Stetson Bennet.
Things looked like they were going to get out of hand when TCU fumbled deep in their territory. Georgia was on the move once again and looked to put an early nail in the coffin but TCU would make a stand and force Georgia to settle for three as they went up 10-0 with just over 7 minutes to play.
TCU would display their fighting spirit on the next drive as Max Duggan showed why he was a Heisman finalist. Georgia had a bust in coverage that allowed TCU to go deep and work their way inside the Georgia 20-yard line. Duggan finished the drive off with a touchdown run to put TCU within three.
Georgia wouldn't waste any time responding as they worked their way down the field with a nice mixture of run and Pass. Georgia exploded on a 37-yard touchdown pass from Bennet to Ladd McConkey to put the Dawgs 17-7. TCU couldn't get anything going on their next possession as the first quarter would come to an end.
2Q
Georgia looked to bust the game wide open in the second quarter as they marched down the field doing whatever they pleased against that TCU defense. The Bulldogs looked unstoppable as Stetson Bennet would take in for his second rushing touchdown of the game. The Georgia defense quickly followed that up with an interception on Max Duggan and looked to add to their 24-7 lead.
Once again, Georgia went on a methodical and dominant drive. The Dawgs did what they wanted at will against the Horned Frogs' defense. They finished off a dominant drive with a touchdown rush from Kendall Milton.
Georgia wasn't done yet as they intercepted Duggan for the second straight drive and capped it off with a touchdown pass from Bennett to Mitchell to put the Dawgs up 38-7 going into the half.
3Q
The two teams traded possessions to start the second half, but Georgia would get back in rhythm on their second drive. They marched down the field with a nice mix of run and pass and capped off the drive with a touchdown pass from Bennett to Brock Bowers. That score made it a 45-7 game in favor of Georgia.
Georgia continued to pour it on with another touchdown connection from Bennett to McConkey to make it 52-7 with just under five minutes to play. The third quarter would come to an end with TCU on the move but trailing big.
4Q
Georgia took out the majority of their starter in the fourth quarter and gave Stetson Bennett a standing ovation as he came off of the field. The two-year starter went 28-1 in his career and brought back-to-back national championships.
The Dawgs kept their foot on the gas with their backups in the game as they continued to pour it on as they scored another rushing touchdown to make it 59-7 with over ten minutes left to play. Georgia head coach, Kirby Smart took his defensive starters out as well but the Dawgs continued to feast on Duggan and the TCU offense. Georgia would force a turnover on downs and break the 60-point mark the very next play with a touchdown run. The Dawgs go back-to-back with 65-7 win over TCU
This may not have been the championship game everyone was hoping for, but lets take a second to appreciate the dominant run the Bulldogs have been on the last two years. The Dawgs have lost one game in two seasons and captured back-to-back titles for the first time in program history. This team could possibly go down as one of the best teams in collegiate history. Congratulations to TCU on an amazing season and defining all odds. The Georgia Bulldogs are your 2023 national champions.
The College Programs With The Most Players In The NFL
The NFL is made up of players from across the country, but some college programs produce much more NFL talent than others.
Famous Athletes Who Wore a Mask
Many people like to dress up as their favorite athletes for Halloween. Here's a list of famous athletes who wore masks.