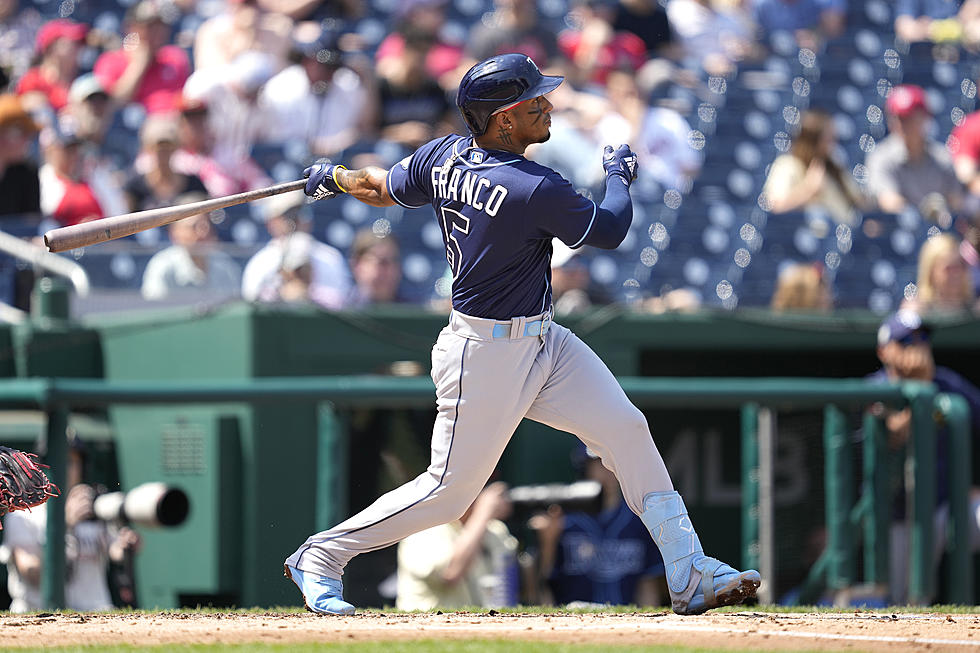 3 Players Not Named Shohei Ohtani That You Need To Watch Play Baseball
Photo by Mitchell Layton/Getty Images
The American Pastime has been on the decline in recent years. Baseball just doesn't have the magic it used to.
That has been attributed to everything from world events to shortening attention spans (which is BS, no one has problems watching 2.5 hour football games), and while I have my thoughts on how the game could improve, the powers that be have made strides in electrifying the game of baseball for a new generation.
The pitch clock, shift ban, and pickoff rules have shortened game times in the right ways. Now all baseball needs to heave itself off the bottom of the American sports barrel is some bonafide super stars to advertise with.
The obvious answer here is the Unicorn, Shohei Ohtani. The Japanese phenom has been the biggest story in MLB for a couple of years now, thanks to his unhittable pitches and monster homers.
And his unending respect and love for the game.
But I'm gonna give you three good reasons to watch teams other than the Angels.
Those reasons are Wander Franco, Ronald Acuna Jr., and Julio Rodriguez.
---
Wander Franco
This is probably a name you've heard if you've been following baseball recently. The Tampa Bay Rays infielder is part of the best team in baseball as of today, boasting a 10-0 record. That hasn't been done in nearly 40 years.
He's hitting .317 right now and with an on-base-plus-slugging of 1.047, if he gets a good pitch, he's putting it in play. And it's not just little gap-finders or bloopers.
The young man is mashing the baseball.
Plus those Devil Rays jerseys are amazing.
Ronald Acuña Jr.
What do you get when you combine the eighth-fastest sprint speed in the MLB with 40+ home run power?
Atlanta Braves outfielder Ronald Acuña Jr., that's what.
As is evident from his on-base-percentage of .415, he gets on base (when he isn't jogging around them without a care in the world).
And when he does, he's even more dangerous than he is in the batter's box.
He's also elite defensively, getting comparisons to Ken Griffey Jr from people who know.
He's a wonderful example of the talent that exists in the youth of the MLB, and he comes complete with the swagger and fun that goes with that youth.
If the Braves make another deep playoff run, Acuña will likely be a big reason why.
And finally...
Julio Rodriguez
Last year's Rookie of the Year is primed to have another excellent season.
In his rookie campaign, the Mariners centerfielder homered 28 times and stole 25 bases. The last guy to do 25/25 as a rookie is named Mike Trout and he's pretty good at baseball.
Rodriguez could be that good. The dude ranks in the 98th percentile for speed in the MLB. With a full season ahead of him, and the new Big Boy Bases(tm), the potential for a 40/40 season is there.
Just listen to Mina Kimes. She's smart.
---
Those are just three of the incredible players we've seen play baseball early on in this season.
Hell, I haven't even mentioned any of the absolutely filthy pitchers that have graced the mound so far.
So see if you can catch a game or two. I know 162 is way too many, but you never know if the game you do catch might end like this:
10 Highest Paid Athletes in the World in 2022
Between the 10 of them, they will bring in a total of more than $992 million in 2022.
Most Valuable Franchises in American Sports
Five of the ten most valuable franchises in American sports come from the NFL.
Pro Athletes From the Acadiana Area
Louisiana has produced some of the best pro athletes in the world, especially in Acadiana.