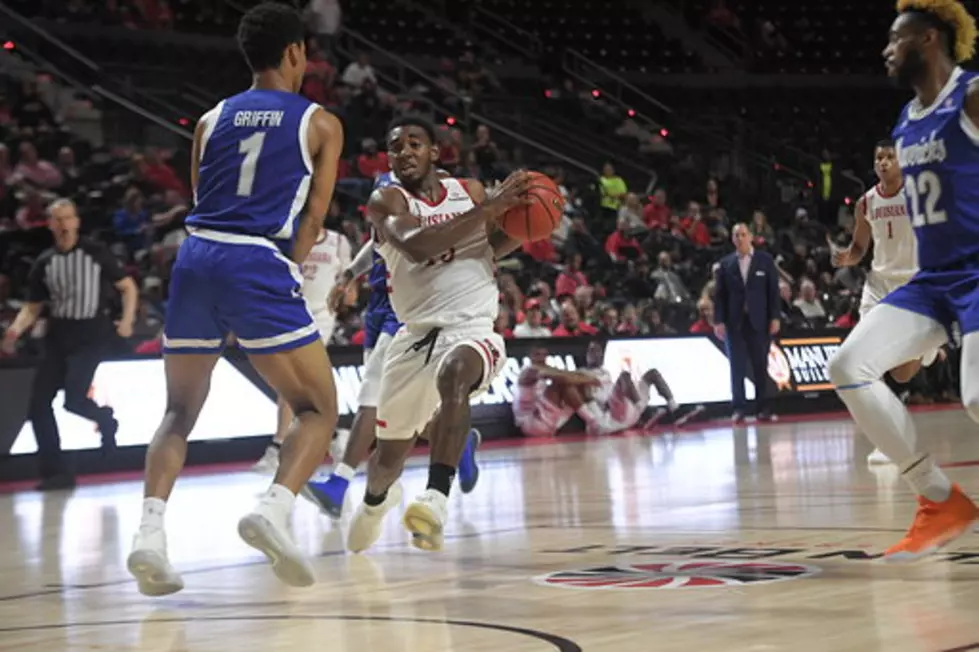 UTA Pulls Away From Cajuns, 81-65
BRAD KEMP PHOTO
UT Arlington broke open a tight game with a 14-2 run in the second half and went on to beat the Louisiana Ragin' Cajuns 81-65 before an announced crowd of 3,838 at the Cajundome Thursday night.
The Mavericks (7-12, 3-5 Sun Belt) used a 55.6% shooting mark to score 50 first half points and led 50-41 at the half.  Louisiana (7-12, 2-6) trailed 55-45 but used a 7-2 run to pull within five on a three point basket by Jalen Johnson with 15:00 left.
The Cajuns wouldn't get another field goal for more than eight minutes.
Trailing by right after a three point basket by Sam Griffin, the Cajuns missed on six consecutive shots before UTA hit another bucket.  The Cajuns could manage only a pair of Cedric Russell free throws at the 9:33 mark until Johnson finally broke the field goal drought with 7:42 remaining.  By then UTA's lead was 71-56 and the Cajuns never got any closer the rest of the way.
The Cajuns were led by Johnson, who scored 23 points on 7-14 shooting, including 3-5 from the bonusphere.  Tirus Smith notched his first career double double with eleven points and eleven rebounds and P. J. Hardy, back after a seven game absence because of an ankle injury, chipped in ten points.  Freshman Chris Spenkuch scored a career eight points and hauled in five rebounds in 19 minutes of action.
Despite Hardy's return, the Cajuns still played the game with only seven scholarship players, as forward Dou Gueye missed the game after suffering from flu like symptoms the last three days.
UTA placed five in double digits as TiAndre Jackson-Young came off the bench to lead the Mavs with 18 points, including 4-7 from three point range.  Sam Griffin added 14 points while David Azore chipped in twelve.  Jabari Narcis notched a double double with ten points and eleven rebounds, while Jordan Phillips also scored ten.
The Cajuns play the second game of their three game homestand Saturday night against Texas State.  Game time is set for 7:00.