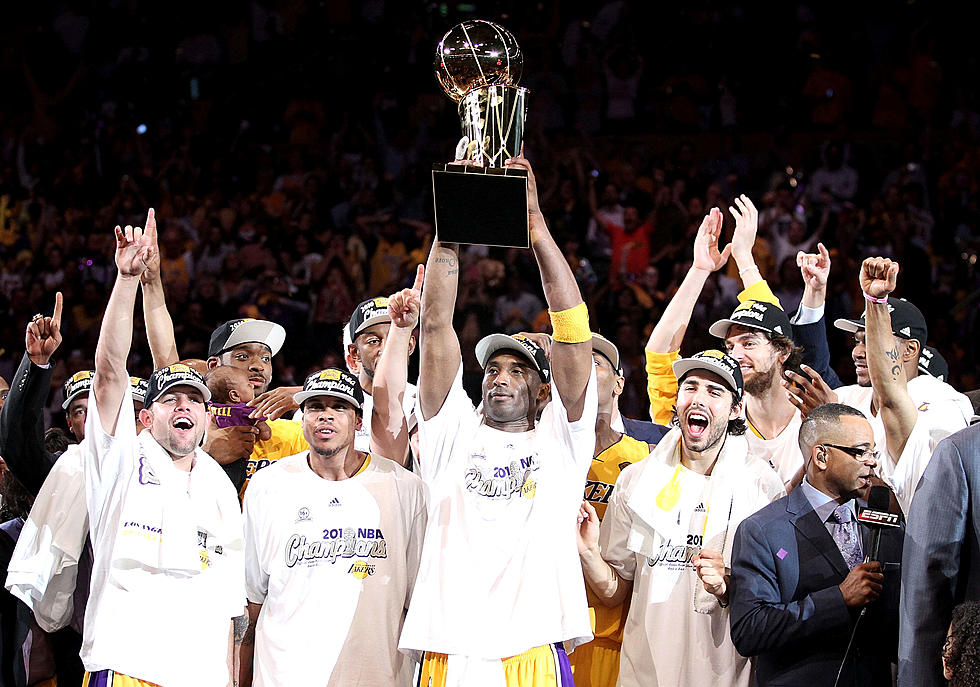 Top 10: Iconic Moments In NBA Finals' History
Getty Images
The NBA Finals has provided us with entertainment for decades now as the game's biggest icons have created moments that we will remember forever. We decided to take a look back at the most iconic moment in NBA finals history and give you our top ten picks. This list best purely on the iconic moments that are forever burned into the minds of basketball fans everywhere. With that being said, here is our list of the most iconic moments in NBA Finals history.
The Bucks come back from 0-2 against the Suns (2021)
This one might not have a lot of people's top ten but it deserves its place, here's why. After going down two games to none, Giannis went on a rampage as he post 30 plus point games in the next four to secure a 4-2 series win and the Bucks' first championship. He averaged a double-double in the series as he had 35.2 points and 13.2 rebounds. Giannis was already a two-time MVP and had multiple All-Star selections, so all that was left was a ring. He cemented his spot as one of the best in the game today in dominant fashion on the game's biggest stage.
Iverson steps over Lue (2001)
While the 76ers would go on to lose the series to the Lakes, it's no doubt that Allen Iverson gave us one of the most iconic photos in sports history. He hit a clutch step-back three over Tyron Lue and finished it by stepping over him. There's no doubt in my that this photo is the first thing that comes to mind when people think about Allen Iverson.
Michael Jordan's "Shrug" (1992)
This photo is also right up there with AI's step-over when comes to being iconic. Jordan was not known for his three-point shooting ability as he shot just over 32% that season but game one of the finals was a different story. He hit six three-pointers and finished with 39 points. On his last three-point shot, Jordan gave this iconic shrug.
The Celtics rally from a 24-point deficit (2008)
The Celtics found themselves down 34-14 after the first quarter, but they stayed focused and continued to chip at the lead. They went on a 23-3 run to start the second half as they went on to win game four 97-91 to take a commanding 3-1 series lead. This would eventually give us the iconic "ANYTHINGS POSSIBLE" from Kevin Garnett.
Jordan win his first Championship (1991)
In a series that lacked drama, it signified that Jordan had finally taken the "monkey" off his back. Jordan was already named MVP and widely considered to be the game's next "great", but he still lacked a title. This all changed in 1991 when Jordan's Bulls beat the Lakes in 5 games, Jordan's legacy was officially born.
Kyrie Irving seals the deal (2016)
This series had all the drama you could ask for. It featured the game's greatest player in the modern era with LeBron James, the game's best three-point shooter in history with Steph Curry, and a rematch from the 2015 Finals. The Warriors were coming off a history 70-win season and looked well on their way to beating the Cavs in the finals for the second straight year as they went up 3-1. LeBron Kyrie fought their way to even the series up a 3 and force a game 7 for the ages. It was Kyrie's iconic three-point shot that sealed the deal for the Cavs and cemented their first championship in franchise history.
Kobe Bryant "on a bad ankle" (2000)
This game is the physical representation of Bryant's Mamba mentality as he would most of game 2 and all of game 3 with a bad ankle. He would come back in game 4 playing 47 of 53 possible minutes. He scored 28 points and willed his team to an overtime victory over the Pacers. This is even more amazing when you considered Bryant was just 21 and Shaq had fouled out of the game.
The Flue Game (1997)
The name itself is iconic enough, but Michael Jordan was terrific in a game where Jordan was suffering through illness. He had ten huge points in the fourth quarter to erase a 77-69 Jazz lead. Jordan's 38-point performance gave the Bulls a huge win and a 3-1 series lead as they went on to capture their sixth title in seven years.
The block hear around the world (2016)
We talked about Kyrie's huge shot to cement the Cavs' victory over the Warriors in 2016, but this moment wouldn't have been possible without LeBron. The two teams were deadlocked at 89 with neither scoring in almost five minutes before the Warriors' Iguoala looked to change that with a fast-break opportunity. An easy layup looked like it was in play before LeBron came racing from the other end to block the shot off the glass. The thunderous block gave the Cavs a much-needed burst of energy and willed them to a championship.
Ray Allen's Shot (2013)
The Spurs had a 3-2 advantage in game 6 of the NBA finals and it looked like they were on their way to a championship, but the Heat had other plans. The Spurs had a five-point lead with 30 seconds left. Ray Allen hit a clutch corner three with a hand in his face to send the game into overtime. The Heat went on to win the game and the series. This shot not only saved the game but won them the Finals.
Famous Athletes Who Wore a Mask
Many people like to dress up as their favorite athletes for Halloween. Here's a list of famous athletes who wore masks.
Pro Athletes From the Acadiana Area
Louisiana has produced some of the best pro athletes in the world, especially in Acadiana.