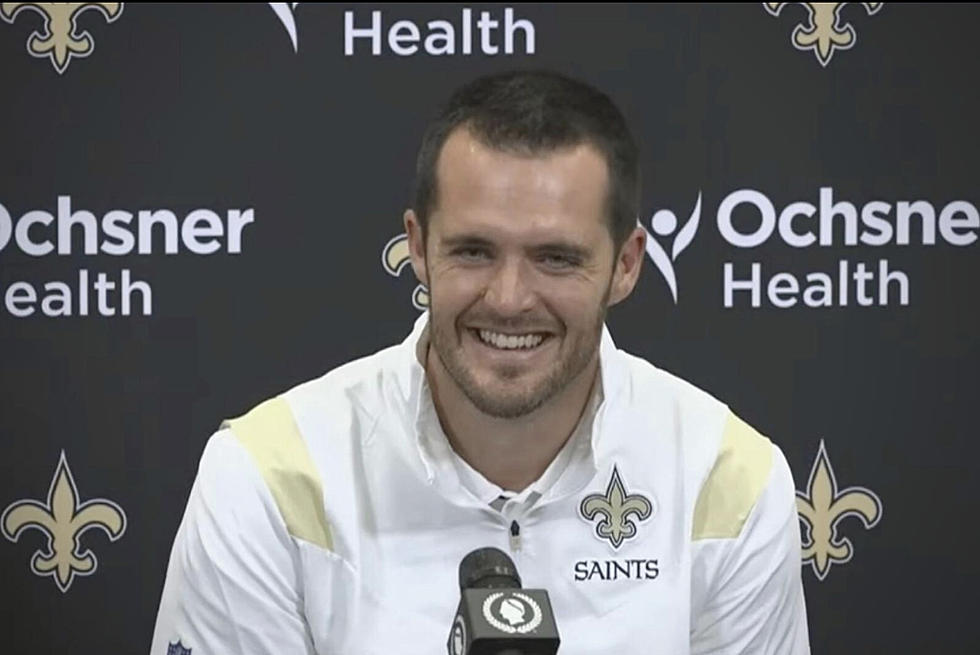 Should New Orleans Saints QB Derek Carr Be An MVP Candidate? (AUDIO)
screengrab via YouTube, New Orleans Saints
Should New Orleans Saints new starting quarterback Derek Carr be considered to win the NFL Most Valuable Player Award this season?
Carr isn't exactly the most explosive quarterback in the NFL when it comes to statistics.  He's only eclipsed 30 touchdown passes in one of his nine seasons in the league.  And that was back in 2015.  
He generally does throw for about 4,000 yards annually, or in six of his nine seasons, including over 4,800 yards just two seasons ago in 2021.
Warren Sharp ranks the Saints schedule as the easiest for the upcoming 2023.  Of course, that's mostly based on last season's records and expectations for this season.  There will always be at least a surprise or two.
But check that schedule again.  Although the Saints play 8 home games vs 9 on the road, 13 of the Saints 17 games are inside.  They only have four games outside all season long, Carolina, Green Bay, New England and Tampa Bay.  The cold weather games are early and Tampa Bay is New Year's Eve.  
(Dave Schultz & Lynden Burton from SportsChat 5.31.23)
As you may expect, the odds are long for Carr to win the MVP.  DraftKings has Carr at +4500 while Fanduel has him at +3500.
It's no surprise, Patrick Mahomes, Joe Burrow, Josh Allen and Jalen Hurts are the odds on favorites to win the 2023 MVP.
But if Carr can take advantage of those indoor playing conditions, throw for 4,500 yards and 35 touchdowns, plus an NFC South Division Title, he'll be in the conversation for Most Valuable Player.
You may want to take advantage of those odds before anyone notices.
NFL Records Held By New Orleans Saints Players
A number of current and former members of the New Orleans Saints hold NFL records.
Worst New Orleans Saints Trades of All Time
A rundown of the absolute worst New Orleans Saints trades of all time.
Top 10 LSU Tigers Drafted by the New Orleans Saints
Top 10 LSU Tigers Drafted by the New Orleans Saints