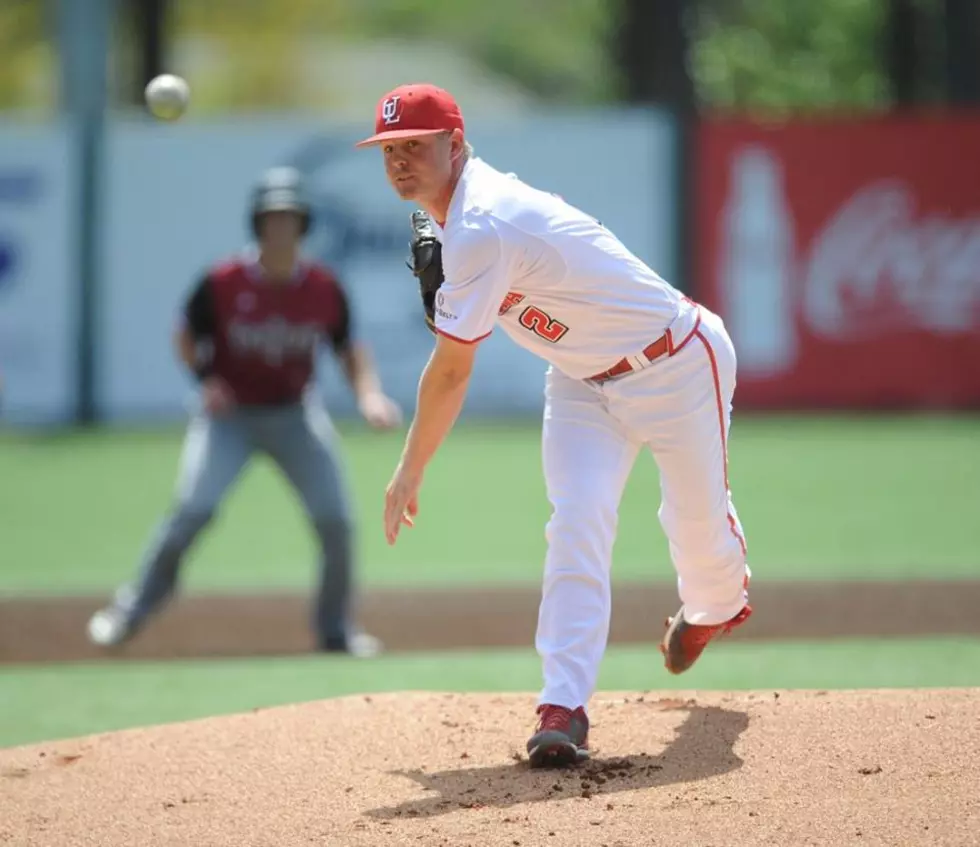 Schmidt, Cajun Bats Pop Coastal in Game One
Brad Kemp/RaginCajuns.com
The Louisiana Ragin' Cajuns got another brilliant performance from lefty Colten Schmidt, and his teammates backed him with ten hits, five for extra bases as the Cajuns defeated 15th ranked Coastal Carolina 12-6 before 5,008 at M. L. "Tigue" Moore Field at Russo Park.
"It's really remarkable what he's done," head coach Tony Robichaux said of Schmidt.  "He just grinds it out and makes something hard look easy.  That's when you know you're good."
In the meantime, Schmidt's teammates jumped on starter Zach Hopeck (4-4) and the Chanticleers bullpen, jumping out to a 12-1 lead before the bullpen allowed five runs in the ninth.
Daniel Lahare, Gavin Bourgeois, Kennon Fontenot and Kole McKinnon each had two hits for the Cajuns (27-20, 13-9 Sun Belt).  Bourgeois and Hunter Kasuls each drove in three runs, while Fontenot drove in four, including a three run homer that highlighted a five run fifth inning.
"Our guys did a good job driving the baseball," Robichaux said.  We didn't have to sacrifice one time tonight.  We hit balls in the gap and we got a really big lick from Fontenot and that helped us get out to a big lead."
Schmidt (6-0) worked the first eight innings, allowing one run on just four hits.  He walked one and struck out nine.
Louisiana got on the board in the first inning on RBI singles by Bourgeois and Fontenot.  A rundown allowed Kasuls to score the third run of the inning.
Coastal Carolina (31-15, 17-5) got their only run in the third on a homer from Zach Biermann, his ninth of the season.  But the Cajuns broke the game open with a five run fifth, highlighted by Fontenot's three run bomb to left off reliever Davie Inman.  It was Fontenot's fourth homer of the season.
The Cajuns stretched the lead in the sixth on Kasuls' two run single and added two more in the eighth on an RBI triple by Bourgeois and a sacrifice fly by Kasuls.
Hopeck was charged with seven runs, six earned in 4.1 innings of work.
The Cajuns will go for the series win tomorrow at 6:00 pm.  RHP Jason Bilous will pitch for Coastal, while lefty Hogan Harris will start for the Cajuns.