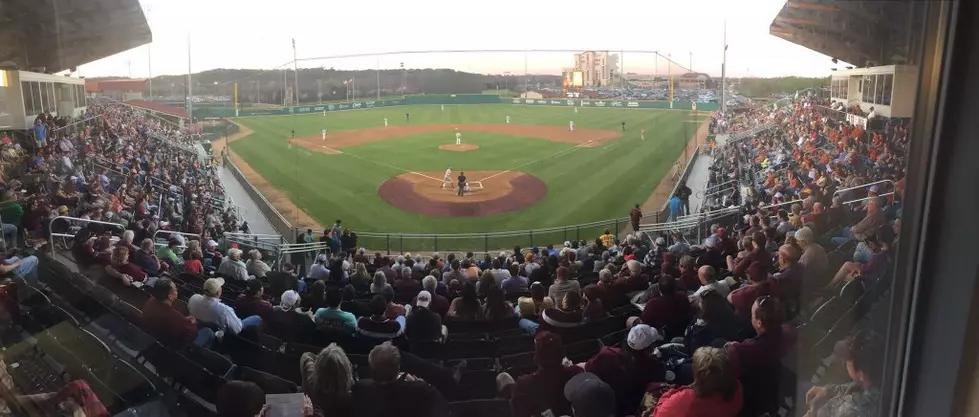 Rating the Sun Belt Ball Parks – #5 – From the Bird's Nest
photo courtesy Texas State
#5  BOBCAT BALLPARK—TEXAS STATE
THE GOOD—Softball in left field and Bobcat Stadium in right provide for a pleasant backdrop.  They've got plenty of chairback seating and benchback as well.  The caboose down the first base line is great for a party  Four luxury suites as well.  They aren't  particularly roomy, but great vantage.  Ball park is symmetrical.  Large video board above the scoreboard in RC field.  Dimensions are fair, but the wind always howls out to LF.  Grilled burgers and dogs at the concession stand.  Good sound system.  No one has to worry about parking, even if there's a great crowd thanks to the football stadium (there's a gate to enter near right field for easy access.).  Trains run in the distance, visible from the ball park and that adds to the ambience.  Stands are mostly covered, which is a good idea in the Texas heat of May.  Heat can be quenched by a cold beer at the ball park.
THE BAD—Although they offer grilled burgers and dogs, there's really nothing else about concessions that are special.  And, to be honest, I think they are a tad overpriced.  The concession area is not adequate for large crowds.    The press facility is small and does not address television, which forces radio outside into a windstorm.  And, for the life of me, I don't get why people build radio booths where windows don't fully open.  It's near the other athletic facilities but is a bit of a trek from the actual campus.  I'm told there are plans to install turf in the off season which is great for maintenance, but boy, that stuff is gonna be hot in May, which will force Texas State to play on Saturday nights, rather than mid afternoon.
ANALYSIS—The park is only a decade old and I think it's a great place to watch a game.  The covered stands make it very fan friendly, the video board is a huge plus and I just love the ambience.  They could have done a better job of thinking about the future when building this (concessions and press facility), but this is definitely among the better parks in the league.