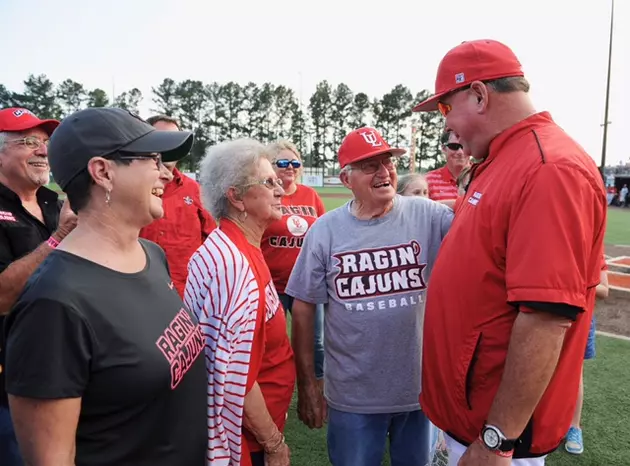 Mr. Vic Kilchrist, "The Peanut Man" Passes Away
Brad Kemp Photo
Many fans who purchased peanuts at M. L. "Tigue" Moore Field or Lamson Park may not have even known his name.
To many, he was simply "The Peanut Man."
Last night, Vic Kilchrist, who roasted peanuts on site at the ball park for more than 30 years, passed away.  He was 95.
Mr. Vic had suffered a stroke in the off season.  His nephew, Daniel Navarre, who was his partner in the peanut business, took over the sale and roasting of peanuts at the park this season.
Louisiana Ragin' Cajuns baseball coach Tony Robichaux used Mr. Vic as an example of what made the atmosphere at the ball park so special.
"It's our people," he said many times.  "Others can barbecue, but we have the Cajun Cooking club.  Others can sell peanuts, but they don't have "The Peanut Man."
Mr. Vic served in World War II and the Korean Conflict.  He got into the peanut business after turning 60.  He started with a single roaster, but then purchased two more.  He had one at "Tigue" Moore Field, one at Lamson Park and one that traveled all over the area.  In an article published in Acadiana Lifestyle Magazine, Mr. Vic said one of the reasons he started the business was he didn't like the peanuts that were sold in cellophane packages.
So entrenched was the peanut business at Cajuns' baseball games, one of the permanent concession stands in the new ballpark has been designated solely for peanut sales.
Anyone who knew or had even said hello to Mr. Vic understands we've lost a treasure.  But the memory will live on and the peanuts will still be roasting.