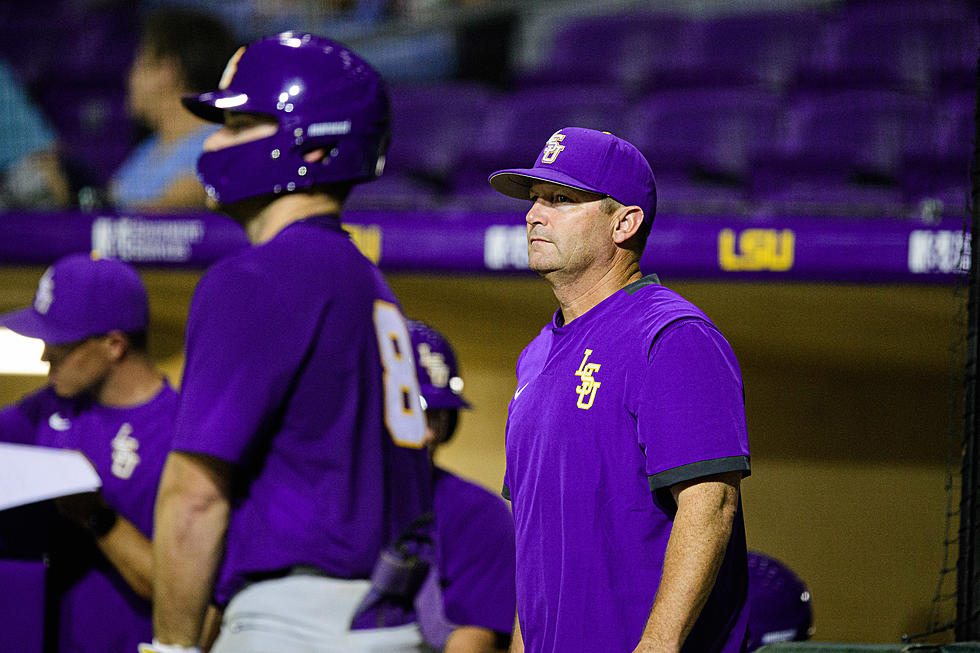 LSU Hasn't Been Here; Tennessee Has
LSU Athletics
Since being eliminated from the SEC Tournament, LSU had reeled off six straight wins in the NCAA Tournament.  Sweeping both the Baton Rouge Regional and Super Regional.  Only once was a game even close, their first win over Oregon State 6-5.
Other wins were 7-2, 13-7, 14-0, and 8-3.   The Tigers even had the largest margin of victory in the 1st Round action of the College World Series with 6-3 win over Tennessee.  All of the other 1st Round games were decided by one run.  They haven't faced an elimination game, yet.
Following their deflating 3-2 to loss to Wake Forest on Monday, that'll change Tuesday night.
Meanwhile, Tennessee rolled through the Clemson Regional, eliminating the home team Tigers 6-5 in 14 innings.  That set up the Volunteers against Southern Miss in Hattiesburg, where there is no Applebees. Sorry, that's a different story for a different time.
Tennessee lost the first game 5-3, that due to weather, took a couple of days to complete.  And the Vols found themselves down 4-0 to the Golden Eagles and facing their ace Tanner Hall in Game 2 of the Super Regional.  You probably know the rest of the story.  Tennessee rallied in the elimination game for an 8-4 win and then blanked South Miss 5-0 to advance to Omaha.
And that's just the first time Tennessee was behind with a chance of heading home.  Yesterday the Vols were down 4-0 to Stanford before rallying for a 6-4 win for the right to play in another elimination game Tuesday evening.
Does that experience favor Tennessee?  Perhaps.
But the pitching matchup appears to be more of an advantage.
Vols right-hander Drew Beam is expected to pitch against LSU while the Tigers are TBA.  LSU went all in on Monday against Wake Forest when Jay Johnson brought in Thatcher Hurd to relieve starter Ty Floyd.  That leaves a big question mark for Tuesday's game.
Riley Cooper, Gavin Guidry, Blake Money, Javen Coleman?  All of the above.
Beam is 9-4 with a 3.78 ERA and certainly no one will confuse the Southern Miss lineup and LSU's, but Beam and his major league curve ball, limited the Golden Eagles to seven hits and one walk while striking out seven.
For the first time this season, LSU's back is against the proverbial wall.  No one knows, including the Tigers, how they'll react.  Conversely, Tennessee has come from behind twice in elimination games in the last nine days.
Suffice it to say, someone, anyone, on the Tigers is going to have to come up with a huge game.  Dylan Crews, Tommy White, Cade Beloso, Riley Cooper?  All the above?
Or, what started as such a promising run in the NCAA Tournament over two+ weekends, will come to a crashing halt in about 24 hours.
Top 10 LSU Tigers Drafted by the New Orleans Saints
Top 10 LSU Tigers Drafted by the New Orleans Saints
LSU's Top QBs Not Named Joe Burrow
LSU Coach Kim Mulkey's Outfits
LSU's National Champion and Hall of Fame Women's Basketball Coach Kim Mulkey has some of the best style in the game. Here are some (not all) of the highlights. We even dug back for some "greatest hits" she had before she got to Baton Rouge.