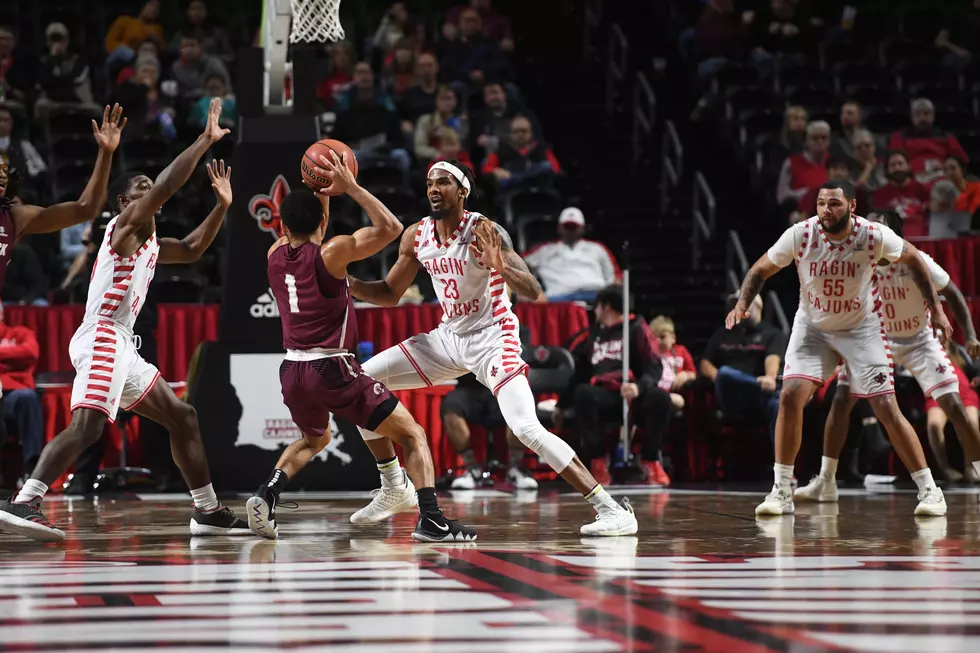 Gant's 45 Points Lifts Cajuns Over Little Rock, 75-61
BRADKEMP
Little Rock's Rayjon Tucker scored a career high 36 points on 11-15 shooting Saturday night at the Cajundome.
But he was only the second best player on the court.
Louisiana senior JaKeenan Gant poured in 45 points and hauled in eleven rebounds to lead the Ragin' Cajuns past the Trojans, 75-61 to the delight of the 3,571 fans in attendance.
Gant made 15 of his 21 field goal attempts, including 4-5 from three point range and made all eleven of his free throws in becoming the first Cajun to score 40 or more points in a game since Andrew Toney did it against Auburn in the 1979-80 season.  The 45 points is also a Cajundome scoring record.
Gant's performance overshadowed Tucker, who made 5-9 shots from three point range and hit 9-13 from the free throw line.  He also led Little Rock (5-10, 0-2) in rebounds with nine.
Cedric Russell was the other Cajun in double figures with a season high eleven points.  Russell played the point guard spot for much of the night after Marcus Stroman was only able to play eleven minutes because of foul trouble and Trajan Wesley suffered a first half injury.  Russell added four assists and only had one turnover on the night.
Markquis Nowell also scored in double figures for Little Rock with 14 points, but also suffered four turnovers as the Cajun defense forced 23 turnovers, with 15 coming in the first half.
After being outrebounded by 20 Thursday night against LIttle Rock, the Cajuns bounced back by winning the rebounding battle 31-29 and getting 17 second chance points to just six for the visitors.
Louisiana (10-5, 1-1) shot just 33 percent in the first half and made just 2-13 from beyond the arc, but still had a 35-30 lead at the break.  In the second half, Louisiana shot 53.8 percent and made 8-14 from the bonusphere, while holding the visitors to just 39 percent after the break.
The Cajuns played without head coach Bob Marlin, who missed the game because of a family emergency.
Louisiana is back in action Thursday night when they face Georgia State at the GSU Sports Arena in Atlanta.  Game time is at 6:00 pm CST.