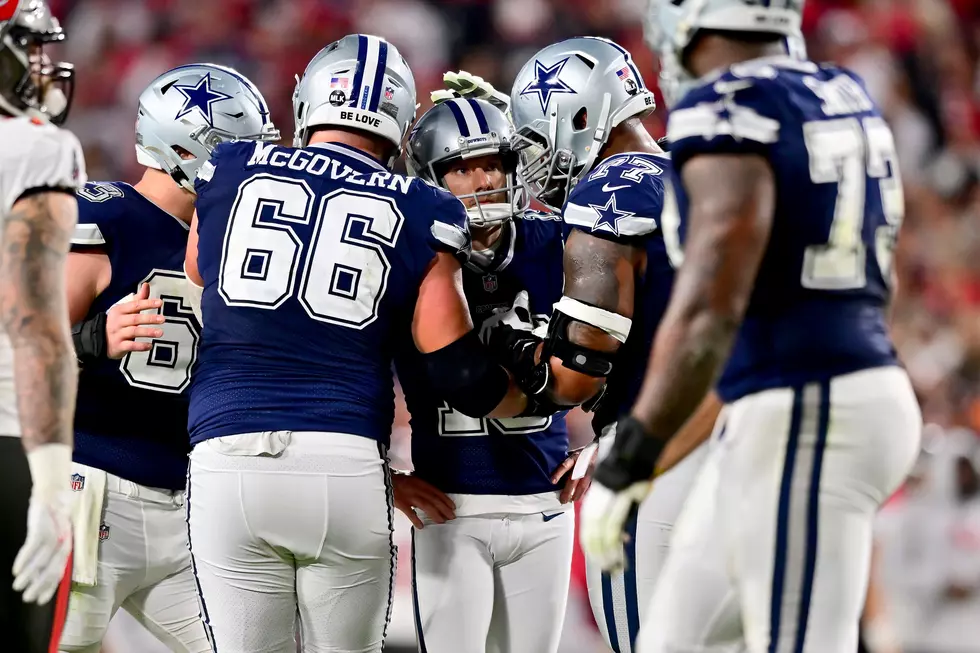 Former Players and Sports Media Accuse Cowboys Kicker of Mortal Sports Sin
Photo by Julio Aguilar/Getty Images
How bad was the Monday Night Football playoff game between the Dallas Cowboys and Tom Brady?
So bad that the topic trending most on social media during the game wasn't about Brady or the Cowboys winning their first road playoff game in over 30 years.
The name trending most was Brett Maher, a kicker whose team won by the score of 31-14.
How bad of a night was it for Maher?
He missed four consecutive extra points, shattering the previous record for most missed PATs in a playoff game of two.
Maher also became the first player in league history to miss four extra points in any game, regular or postseason.
He did attempt a 5th PAT later in the game, and finally made one, going 1-5 on the night.
Many were quick to point out that the Cowboys and Buccaneers combined for 45 points.
The over/under point total for bettors was 45.5.
This led to former NFL players and media members accusing Maher of point shaving for a bet, the unofficial mortal sports sin for a player or coach.
Maher's case of the yips would've been an even bigger story had the game been close, but fortunately for the Cowboys, his misses did not impact the outcome of the game.
Many assumed Dallas would try out a few kickers this week, but owner Jerry Jones says they'll stick with Maher.
Assuming Maher lines up for an extra point or field goal attempt in the Cowboys playoff game against the 49ers this Sunday, it'll be must-see TV.
10 Highest Paid American Sportscasters
25 Highest Paid NFL Players of All-Time