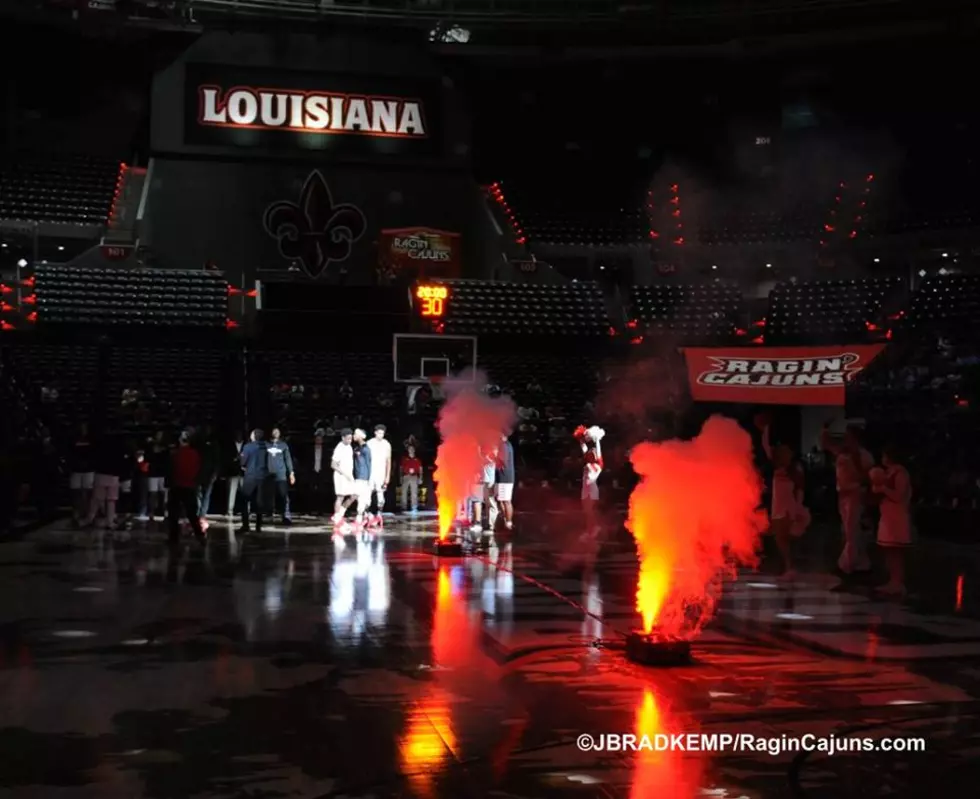 Cajuns' Senior Day Spoiled by Appalachian State, 90-80
Brad Kemp/RaginCajuns.com
Appalachian State completed the season sweep against the Louisiana Ragin' Cajuns Sunday, spoiling the Cajuns' Senior Day celebration 90-80 before 3,437 fans at the Cajundome Sunday afternoon.
The Mountaineers (10-19, 5-11 Sun Belt) led by four points at the half and expanded the lead to as many as 16 points in the second half.  Louisiana (17-12, 8-8) rallied to get within five points in the final minute but could get no closer.
Ronshad Shabazz, who scored 47 points Thursday night in the Moutaineers' loss to ULM, led five players in double figure with 20 points.  Hunter Seacat scored 16, while Tyrell Johnson had 15 off the bench.  Justin Forrest chipped in 13 points, while Isaac Johnson added ten.
JaKeenan Gant scored 23 points and hauled down 15 rebounds for the Cajuns before fouling out with under four minutes left.  P. J. Hardy scored 16 for the Cajuns, hitting 4-10 three pointers.  Cedric Russell, who played just 20 minutes after missing practice because of illness, scored 14 while freshman Trajan Wesley added eleven.
Gant reached the 1,000 point scoring mark in the first half, becoming only the tenth Cajun to reach that mark in two years.
"Their length gives us problems," Louisiana head coach Bob Marlin said.  "We're not a big basketball team and that's on me.  We have to address that in recruiting and I think we're doing that.  We just didn't play very good defense today."
The Cajuns trailed by just one point after a Gant jumper with 12:47 to go in the first half, but App State went on an 11-2 run to buid a ten point lead after a Shabazz three pointer.  But the Cajuns battled back to cut the lead to two on a Marcus Stroman Jumper before the Mountaineers got the lead back to four at the break.
A Jerekius Davis basket at the 11:42 mark got the Cajuns within six at 58-52 before a Bennett Holley triple sparked a 10-0 run to give App their biggest lead with 8:28 to play and the closest the Cajuns got was a three pointer by Hardy to cut the lead to 83-78 with 1:13 to play.
App State made 21-28 free throws in the second half alone, while the Cajuns were just 17-23 for the contest.
The Cajuns begin their final road trip of the regular season Thursday when they play at LIttle Rock.