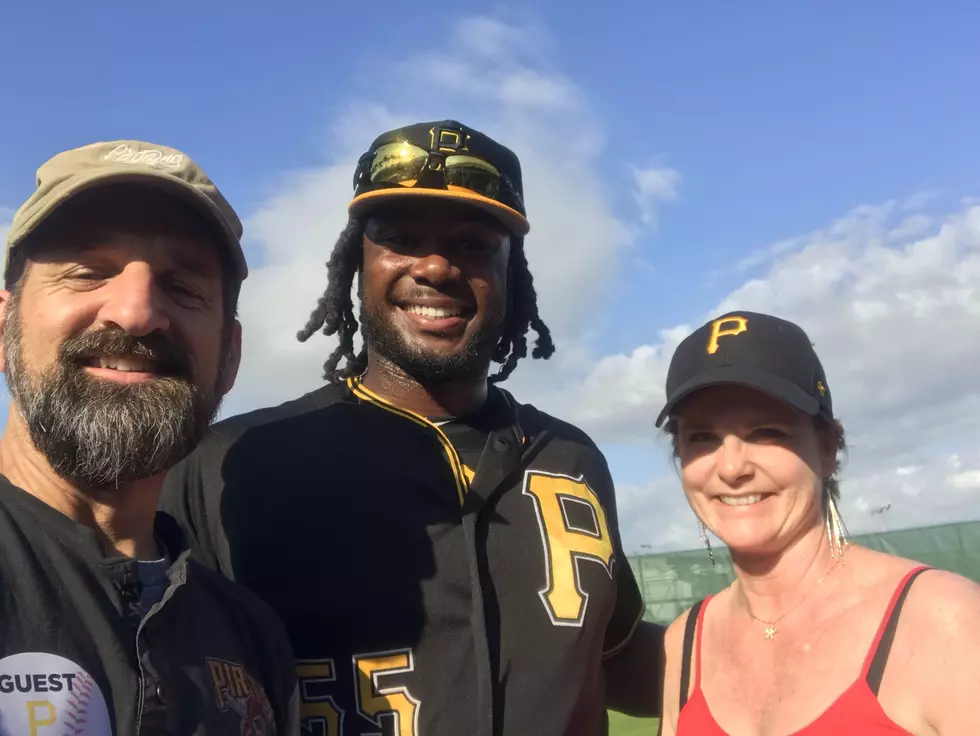 I Enjoyed The Ultimate MLB Thing With The Pittsburgh Pirates
Josh Bell Townsquare Media photo by John Falcon
I had the opportunity to have the ultimate Major League Baseball experience: a behind-the-scenes tour of MLB's Spring Training with the  Pittsburgh Pirates.
I am lucky enough to have a girlfriend who was invited with a +1 to the event (just call me +1 from here on out!), so I got to go with her. We flew out of Pittsburgh on Friday.
The Pirates' staff was incredible, having really paid attention to detail. We boarded a chartered plane from Pittsburgh to St. Petersburg, Florida, complete with lunch. Busses awaited us at the airfield in St. Pete to carry us to the hotel. As we checked in, we received a Pirates Spring Training shirt and hat, along with a ditty bag filled with the items required for a weekend in Florida: sunscreen, Advil, aloe vera juice, lip balm, EmergenC, M&Ms, gum, energy bars, and cheese crackers. So. Much. Winning!
Also, we were each given a regulation Rawlings baseball, along with a pen, to get autographs from any players we came across (check out the pics below!), tickets to the Spring Training games (against the Tampa Bay Rays on Friday; Boston Red Sox Sunday), on-field passes to watch the batting practice, certificates for memorabilia from the merchandise store and credit at the concession stand.
When we arrived at LECOM Field, we were checked in, given guest passes, and escorted onto the field, directly behind the portable backstop used during batting practice.
After batting practice, there was a lunch set up right next to the Pirates' warm-up field, which gave us another opportunity at autographs!
I'll have to say: every one of the players we saw interacting with fans was very accommodating, signed something for everyone in line, chatting, smiling. You hear horror stories of how some players are rude or don't like being bothered; all of these guys were amazing!
Chris Archer signed my baseball and then asked us if he could take a picture!
We were then escorted to our seats to enjoy the game.
On Saturday, after breakfast, we boarded a 30-foot boat and headed out for a fishing excursion with Captain Carlos Bueno and his First Mate Tyler Christopher. Check out the fishing story here.
On Sunday, after breakfast at the hotel, we headed to Pirate City, the Spring Training facility for the Pittsburgh Pirates.
Staff members from the Pittsburgh Pirates took us through an hour-long behind-the-scenes tour of the facility, beginning with the common area. As you watch the video, notice the baseballs lining (almost) the whole room!
Then it was on to the cardio and weight room.
Our next stop was the Pirates' conference room, which happens to be where they hold their draft!
Our final stop on the tour was the Sports Nutrition Center. Allison, the dietician, took several minutes to talk to us about how the Pirates organization encourages the players to "fuel up", and not just "eat". They have one-on-one nutrition counseling with the players to find out their specific needs and, because so many players are from Latin America, they have hired chefs who specialize in Latin dishes.
The Nutrition Center (cafeteria, to us non-superstars) featured a salad bar, a "hot" line (with choices like baked fish, roast beef, steamed vegetables, black beans and rice, sweet potatoes, etc), a smoothie bar, a yogurt bar, and a very fancy coffee machine. The food was delicious!
After the tour, we headed back to LECOM Field to watch the Pirates whoop up on the Boston Red Sox. It was an amazing experience!
From the Pirates staff to the staff at the resort (Vinoy Renaissance was a great place, lots of stuff to do within walking distance), we could not have been treated better. A big shout-out to the Pittsburgh Pirates staff for an amazing weekend, and a bigger shout-out to my girlfriend for hooking me up with this awesome adventure!