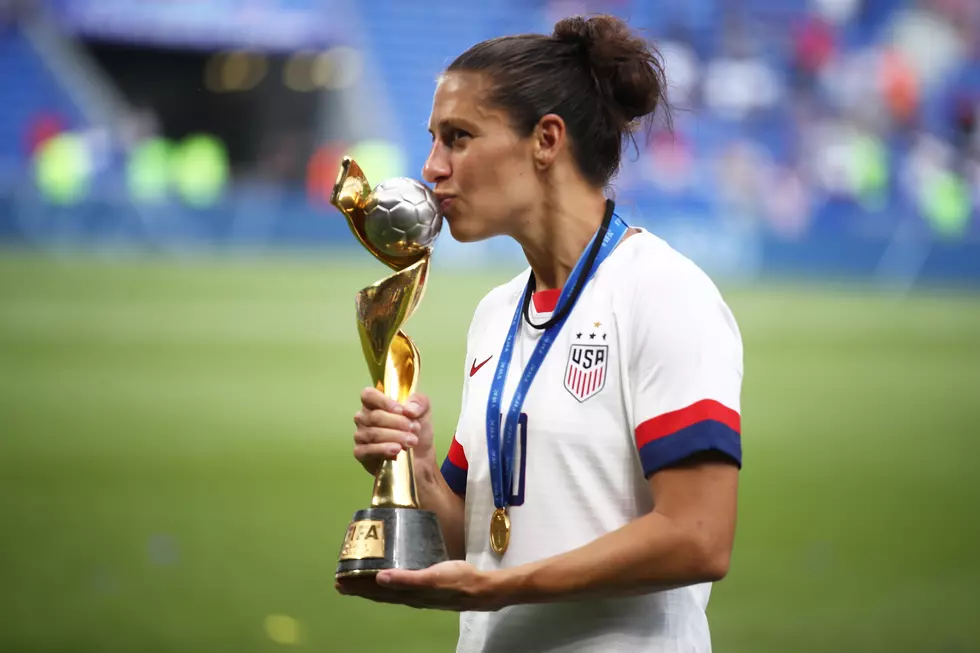 Beyond The Mic: Will Carli Lloyd Be First Female NFL Player? Don't Rule It Out
Photo by Alex Grimm/Getty Images
After nailing field goals in both the Eagles and Ravens training camps, USWNT star Carli Lloyd says there's been "inquiries" about a possible NFL career.
In a recent interview with Sports Illustrated, Lloyd discussed how she made recent headlines with her practice field goals.
Anything is possible.
While it's unlikely, recent trends of Australian rules football players developing into college and pro punters, despite no prior experience with American football, is proof that when it comes to the kicking game, football teams are willing to try something different.
And the only thing different about Lloyd is she's a female. Soccer players transitioning to football kickers isn't a new trend, it's a concept that's been used for years.
NFL Hall of Famer and former New Orleans Saints kicker Morten Andersen grew up in Denmark, excelling on the soccer field. He didn't kick a football until he was in the U.S. for a year as an exchange student and did it on a whim. The high school coach noticed, made him his kicker, which led to Andersen earning a football scholarship to Michigan State, followed by a 25-year career in the pros.
Anderson is widely considered the greatest kicker in football history.
"I started at 25 yards and just kept moving back," said Lloyd, who nailed a 55 yarder.
Cue the hyperbolic "Chicago Bears should sign Lloyd" takes.
Reality is, Lloyd has no experience in football and has never kicked with pads or in a game. She took several more steps before her kicks than an NFL kicker has time to in a game.
She's a 37-year old soccer star. She's definitely not the next Morten Andersen.
What Lloyd did was start a legit conversation about the potential of an NFL female player.
There have been a few female kickers in college football over the years, but none showed the talent and range that Lloyd showed while visiting a few NFL training camps.
Perhaps a young female soccer star somewhere in the world follows a path similar to Andersen's.
It happened to Anderson in 1977.
In 2019, the odds of a high school and/or college coach converting a female soccer star into a prized kicker is much closer to reality than an unrealistic Hollywood script.
Don't rule it out.