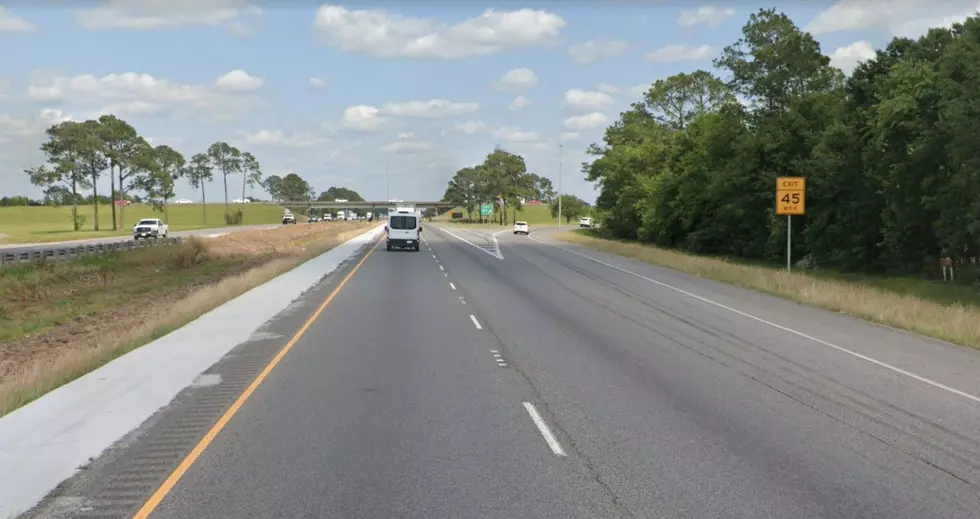 Traffic Closures Happening on Interstate 10 in Lafayette, Louisiana and on the Atchafalaya Basin Bridge
I-10 at Scott Exit, google street view
LAFAYETTE, La. (KPEL News) - Louisiana DOTD's construction on several parts of Interstate 10 continues as workers will not only continue to focus on the Atchafalaya Basin Bridge but also on the Lafayette stretch of it.
Last week, lane closures were necessary as emergency roadwork to repair a broken finger joint on the Basin Bridge near the Butte La Rose exit began, forcing I-10 eastbound down to one lane near Henderson to Lake Pelba (MM 122). Those repairs will continue once again on Friday, August 25 at 8:00 p.m. until Tuesday, August 29 at 12:00 p.m., weather permitting.
Sweeping Operation on Interstate 10 Atchafalaya Basin Bridge in Louisiana Rescheduled
DOTD had lane closures scheduled for BOTH DIRECTIONS of the Atchafalaya Basin Bridge in St. Martin and Iberville Parishes for Sunday and Monday nights (August 20-22) but that sweeping operation has been rescheduled to the following nights:
Wednesday, August 23 at 8:00 p.m. until Thursday, August 24 at 6:00 a.m., weather permitting.
Thursday, August 24 at 8:00 p.m. until Friday, August 25 at 6:00 a.m., weather permitting.
Meanwhile, DOTD workers are also in the middle of micro-milling all the asphalt bumps on I-10 from the Henderson exit (Exit 117) to the Breaux Bridge exit (Exit 109). On Wednesday night and Thursday night - from 6:00 p.m. until 6:00 a.m. each night - there will be nightly alternating lane closures happening on I-10 WESTBOUND as travel lanes will be reduced to one lane through the construction area. Emergency vehicles will have access through the construction zone but may encounter delays.
Traffic Closures to Happen on Interstate 10 Throughout Lafayette Parish, Louisiana
A sweeping operation will cause alternating lane closures on I-10 in BOTH DIRECTIONS from the Acadia Parish Line (MM 94) to the St. Martin Parish Line (MM 108) as DOTD crews will be performing the much needed work throughout Lafayette Parish. This will happen on Thursday, August 24 at 8:00 p.m. until Friday, August 25 at 6:00 a.m.
All permit and oversize loads along with emergency vehicles will be allowed to pass.
Most Expensive AirBnb Stays in Lafayette
If you're looking for a staycation for yourself, or recommending a 5-star stay in Lafayette for friends and family, check out these short-term rentals.
20 States With The Worst Roads In The Country