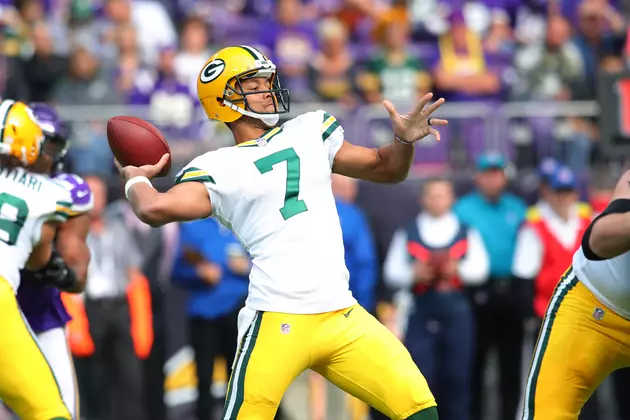 Aaron Rodgers Injured, How Do Saints Adjust?
(Photo by Adam Bettcher/Getty Images)
The Green Bay Packers were dealt the biggest of blows on Sunday as Minnesota Vikings outside linebacker, Anthony Barr, put a hit on quarterback Aaron Rodgers in which he landed awkwardly and directly on his right shoulder. The result of this play? A broken collarbone....
We don't yet know the exact extent of the broken collarbone, as in if it'll require surgery or if rest and rehab will allow it to heal. Further testing is being conducted early this week to determine the recovery path.
So, with the Saints traveling to the cheese state, aka Green Bay, Wisconsin this week, what does this mean for them? What should they expect heading to Wisconsin where there was a state of emergency on Sunday with the Rodgers news?
They know they'll be facing Brett Hundley this week but who is Brett Hundley? He's a third year quarterback out of UCLA, drafted in the fifth round of the 2015 NFL draft. We also know that he's done well in the preseason, before Sunday he had only thrown 11 career passes, and he's a guy who has some mobility (1747 yards and 30 TD's in three years at UCLA). In addition, he threw for nearly 10,000 yards, 75 touchdowns, and only 25 interceptions in those three college seasons.
Hundley was unprepared and unimpressive on Sunday against the Vikings. As a Saints fan you're probably feeling pretty good about your chances of gliding into Lambeau and snatching a victory. However, you'll see a more prepared Packers offense this coming week as Hundley gets a full week of work in with the starters.
It's not a surprise why he struggled when given a surprise opportunity to play. It's a tall task to ask of a young quarterback who hasn't played any meaningful snaps in the league, hasn't practiced with the starters, and has a banged up offensive line around him to perform well. That's especially when NFL fans are so used to seeing Aaron Rodgers garner so much control over the entire offense.
Now, with that said the Saints should have a much easier time going to Lambeau against Brett Hundley than they would have originally thought against Aaron Rodgers. But, the Packers like Hundley a lot, he's got a strong arm and we saw glimpses on Sunday that he's picked up some Aaron Rodgers like tendencies. Here's a look at his throws against the Vikings:
There are four instances I want to point out where he looks like he's got those Rodgers like tendencies.
1. 1:07- Hundley throws a nice back-shoulder completion to Jordy Nelson. This is the type of throw which we've seen Rodgers and Nelson carve up defenses with. It takes timing and trust between the quarterback and the receiver.
2. 2:17- Hundley uses his mobility to escape the pocket and throws a pass down the sideline that ultimately falls incomplete.
3. 2:45- Hundley connects with Jordy Nelson on a comeback, timing route.
4. 3:48- Hundley escapes a collapsing pocket and moves to his left connecting down the left sideline with Devante Adams.
These are all types of plays Sean Payton and defensive coordinator Dennis Allen need to be cognoscente of when it comes to what Hundley will be able to do more of this coming week. These two will have to be on their toes when it comes to the Packers offensive attack, it won't be as high-flying but there will be a certain element of surprise to it.
For all my sports posts and to hear my inner sports thoughts, make sure to keep up with me on Twitter and Facebook.