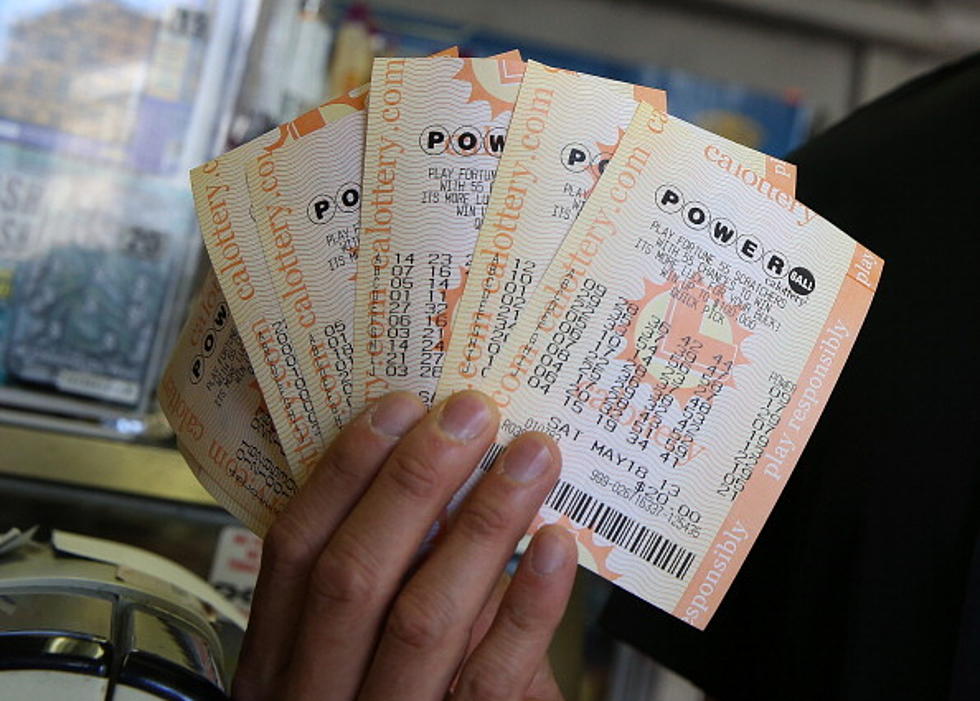 Louisiana Ticket Wins $200,000 in Latest Powerball Draw
Justin Sullivan, Getty Images
The Louisiana Lottery has confirmed that a Powerball ticket sold in the state for the 11/12/2022 drawing is a $200,000 winner. This latest wins adds to Louisiana streak of big money Powerball wins. In fact, a ticket winning $50,000 or more has been sold in Louisiana for every Powerball drawing that's been held in the month of November.
During that streak Powerball players in Louisiana have been responsible for winnings of $1.7 million dollars. Now, that's just tickets valued at over $50,000 when you consider how many $100, $200, and smaller denominations winners the state has produced I think it's safe to say Lady Luck has decided to establish a permanent residence in "The Boot".
As far as last night's Powerball drawing goes there was no big jackpot winner. When the ping pong balls dropped the estimated top prize in the game was $51.4 million. Here's how that drawing looked as it happened.
When the bouncing balls came to rest these were the numbers chosen according to the game's official website, Powerball.com. 
16   20   44   57   58   Powerball 06   Power Play x4
As we mentioned there was no single ticket sold that matched the numbers needed to claim the game's top prize. However, we do know a ticket sold in Austin Texas is worth $2,000,000 this morning. That was the multi-state lottery game's largest prize of the evening.
Here in Louisiana in addition to the $200,000 Powerball winner there were 21 tickets sold in the state that can lay claim to a cash prize of $100 or more from last night's drawing. Of those tickets, five are worth $400 because of the x4 boost of the Power Play option.
Those winning tickets can lay claim to their cash prizes because they either matched four white ball numbers or three white balls and the Powerball. Hey, just for grins over 300 players in last night's game managed to double their money with a win of $7 bucks or more. While that's not a lot, it's certainly better than tearing up the ticket and tossing it in the trash.
The $200,000 winner was sold at a RaceTrac convenience store located at 3730 Harding Street in Baton Rouge. That store is located just off Interstate 110 in Baton Rouge and fairly close to the Baton Rouge Airport.
The state's other Wednesday/Saturday games, Lotto and Easy 5 did not produce a winner in last night's drawings so those jackpots continue to grow. On Wednesday the top prize in Lotto will be an estimated $2,100,000 and Easy 5's jackpot will be an estimated $160,000.
Those with plans of getting rich quick via the lottery will have another chance at Powerball on Monday when the estimated top prize will be $59,000,000 on November 14th. The following day you'll have a chance to play Mega Millions, the other multi-state lottery game played in Louisiana. That game's estimated top prize will be $207,000,000.
We encourage all players of lottery games to practice responsibility and only spend money that you can afford to lose. If you feel you have an issue with gambling there is help available by calling 1-877-770-STOP (7867).
10 Best Cajun/Creole Seasonings
There are lots of amazing Cajun and/or Creole seasonings around Acadiana. However, we asked you, and here are the top selections.